Ali qualifies for Gold Fleet in Moth Worlds
11 January 2015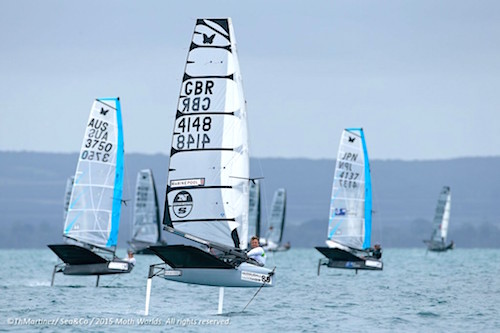 HYC's Ali Kissane has qualified for the Gold Fleet Finals along with Irish Olympian Annalise Murphy in the 2015 Moth World Championships in Sorrento, Australia. They are competing in exhalted company, with leaders including America's Cup syndicate campaigners such as Emirates Team New Zealand's Pete Burling, and Artemis Racing's Nathan Outerridge as well as other notable sailors Tom Slingsby, Iain Jensen, Scott Babbage, Dean Barker and Ray Davies.
The top 79 of the 153 sailors make the 'cut' for the Gold Fleet following the second day of racing at Sorrento Sailing Couta Boat Club in Victoria. Ali is placed in 70 position following his cumulative results from the 7 qualifying races, including a 16th place in the final race today. More consistent results on the second day means that NYC's Annalise Murphy is in 62nd place, while Bangor's Olympian Ryan Seaton just missed the cut, qualifying for the Silver Fleet in 82nd place.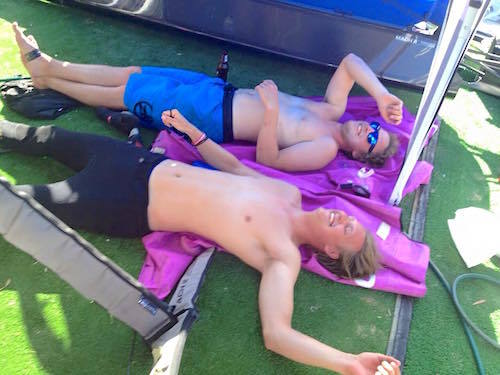 New Zealand's Peter Burling reeled off four straight wins to take the lead on the 2nd day, sounding the warning bell for the other 159 competitors. With the fleet split into Blue and Yellow, Burling was in the Blue fleet on a course closer to shore. Defending world champion Nathan Outteridge (AUS) was in the Yellow on a course further out and on the receiving end of bumpier conditions and scored 3-2-2-1 results.
Ashore Burling said: "I won all four races – the last one by over a lap, which is pretty pleasing in this fleet. it's all come together here," he said referring to his disappointing results at the Worlds in 2011 and 2013. I did well in the light and shifty weather yesterday and today was as good. I put a lot of work into improving my game for this event. We were in flatter more manageable water than the Yellow fleet, but even so, I dropped off the foil at one stage and fell back to 11th, but I still got back and won. Everyone had a swim, or crashed or overtook," the 2012 Olympic 49er silver medallist said of the course, which was closer to the Sorrento Sailing Couta Boat Club, host for the event.
On Nathan Outteridge, Burling said: "Both of us have different commitments now – me with Emirates Team NZ and him with Artemis Racing (AC syndicates). We're still good mates, but things are slightly different now. He is my biggest challenge for this title, of course."
Photo by Thierry Martinez
See: http://www.mothworlds.org/sorrento/
Registered in the Republic of Ireland. Registered No. 81187