Remembering HYC's significant part in the 1993 Sydney-Hobart
03 January 2015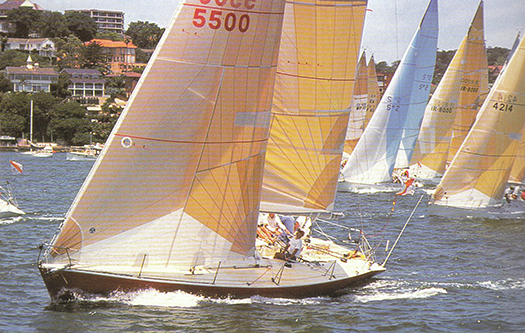 Ireland's fascination with the Rolex Sydney-Hobart Race moved onto a new plane in 1991, when a three-boat Irish team team of all the talents had a runaway win in the Southern Cross Series which culminated with the 628-mile race to Hobart. The three skipper/helmsmen who led the squad to this famous victory twenty-three years ago were Harold Cudmore, Joe English and Gordon Maguire, all on top of their game.
These days, the incomparable Harold Cudmore is still a sailing legend, though mostly renowned now for his exceptional ability to get maximum performance out of large classics such as the 19 Metre Mariquita, sailing mainly in European waters.
But sadly, Joe English passed away just eight weeks ago in November in Cork, much mourned by many friends worldwide. Yet for Gordon Maguire, the experience of sailing at the top level in Australia was life-changing. He took to Australia in a big way, and Australia took to him as he built a professional sailing career. And he's still at it in the offshore racing game as keenly as ever, with 19 Sydney-Hobarts now logged, including two overall wins. He raced the challenging course of this 70th 2014 edition as sailing master of the Carkeek 60 Ichi Ban, a boat which is still only 15 months old, having made a promising though not stellar debut in 2013's race.
W M Nixon takes us back to 1991, when Ireland moved top of the league in the Offshore Racing World Team Championship on the same occasion some 23 years ago.....
In this first weekend of this wonderful new year of 2015, let's remember some of the events of December 1991 as recorded in excited detail in the Afloat magazine of Feb/March 1992.
On the cover is Meath-born John Storey's Sydney-based Farr 44 Atara, around which the Irish Southern Cross team of 1991 was built, as Harold Cudmore was aboard, and he brought out John Mulcahy from Kinsale and John Murphy from Crosshaven.
The small boat of the team was Tony Dunne's Davidson 36 Extension – the owner claimed Irishness through the Irish granny rule, but the matter was put beyond any doubt by Joe English being on board with Dan O'Grady and Conor O'Neill. And then for the third boat they had Warren John's Davidson 40 Beyond Thunderdome, whose owner was happy to be Irish if they'd let him, and to put the matter beyond doubt his vessel was over-run by Howth men in the form of Gordon Maguire, Kieran Jameson, and Roger Cagney, with Dun Laoghaire's Mike O'Donnell allowed on board too - provided he behaved himself.
It was an accident-prone series, with Beyond Thunderdome dismasted in a tacking collision with one of the Australian boats with just three days to go to the start of the Hobart Race. There simply wasn't time to get a replacement mast, let alone tune it, but at the last minute the jury decided the Australian boat was at fault, and allowed Beyond Thunderdome average points not only for that race in which she'd been dismasted, but also for the Hobart Race which hadn't even yet been sailed.
In a final marvellous twist to the story, as Thunderdome couldn't race to Hobart, Gordon Maguire was drafted aboard Atara to add helming strength for the big one. Atara had only been a so-so performer until the big race. But Cudmore and Maguire – that really was the dream team. And it gave the dream result. Atara won the 1991 Sydney-Hobart race overall by a margin of one minute and 50 seconds. It was one of the closest results ever, but it was a close shave in the right direction for Ireland. The Irish party in Hobart to welcome 1992 was epic. And Gordon Maguire's sailing career was set on a stellar course.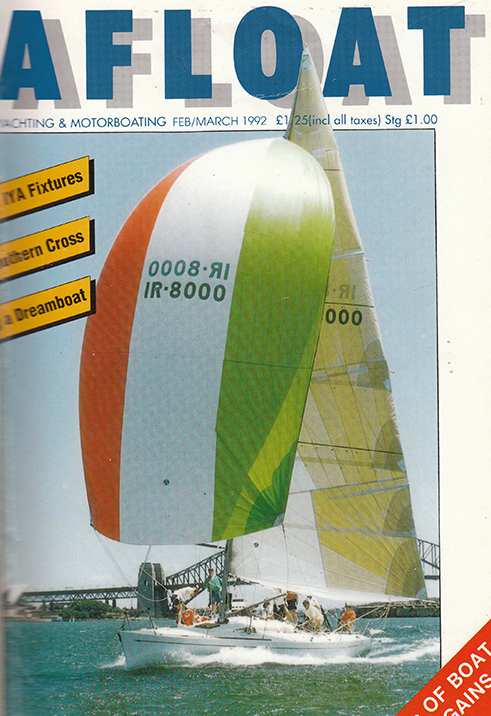 The 'Afloat Magazine' edition of February/March 1992 cover-featured John Storey's Farr 44 Atara, overall winner of the 1991 Sydney-Hobart race with the dream team of Harold Cudmore and Gordon Maguire on board to give Ireland the win in the Southern Cross Series.
Reproduced with the kind permission of Afloat Magazine and WM Nixon from this article posted on 2nd January 2015
Registered in the Republic of Ireland. Registered No. 81187