First Day of Laser Frostbites Spring Series
04 January 2015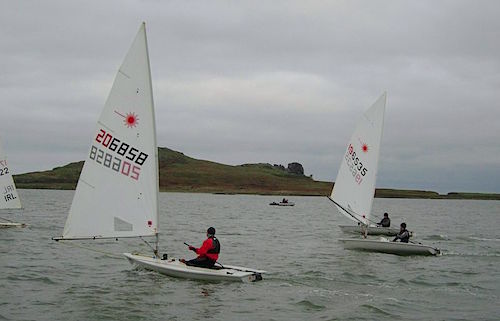 This Sunday proved to be an icy and still start to the Laser Frostbites Spring Series, with a long and chilly postponement, while the patient Race Officer Liam Dineen waited for the breeze from the south. When it increased from 1 knot to 8 in a heartbeat, the team got the fleet away on the first attempt, with a slight port bias, in the shifty breeze underneath the west pier. A right shift upwind secured Daragh Sheridan the top slot around mark 1. A strengthening ebb tide favoured the left hand side of the run, but the 2nd beat was more elusive, and places shifted, so that Paul McMahon eventually got line-honours, followed by Ronan Cull, with Ronan Kenneally in 3rd.
Date: 04/01/2015
Wind: S, 1-16 knots
Races sailed: 1 & 2, Windward/Leeward
Race length: 30 min each
Leader, standard: Ronan Cull
Leader, radial: Ewan McMahon
Leader, 4.7: Rory McEvoy
Race 1 - Standard fleet:
1. Paul McMahon
2. Ronan Cull
3. Ronan Kenneally
4. Eddie Rice
5. Daragh Sheirdan
Race 2 started in moderate breeze, and a brave Robin Hegarty on the pin and on port. Hegarty was 1st around mark 1, coming in from the right, with travelling corkmen Eddie Rice and Ronan Kenneally next around from the left, all avoiding the hole in the middle of the course. Again, the run was about staying left of centre and finding the puffs. The next upwind leg was characterised by a right-hander and breeze coming in from the left – Ronan Cull taking advantage of both to gain the lead; Kenneally and Hegarty runners up in hard-fought podium positions. As usual there were many hard fought places won today throughout the fleet.
The 4.7's and radials had a slim turn out. Ewan McMahon beat his only competitor Conor Twohig in both races in the radials. Rory McEvoy raced unchallenged in the 4.7's.
Race 2 - Standard fleet
1. Ronan Cull
2. Ronan Kenneally
3. Robin Hegarty
4. Mike Evans
5. Daragh Sheridan
Well done to everyone who made it out today. Welcome to the new comers and recent returnees – especially Ronan Kenneally and Eddie Rice who travelled from Cork this morning.
Registered in the Republic of Ireland. Registered No. 81187