Mild and breezy conditions hold for Laser Frostbites
30 November 2014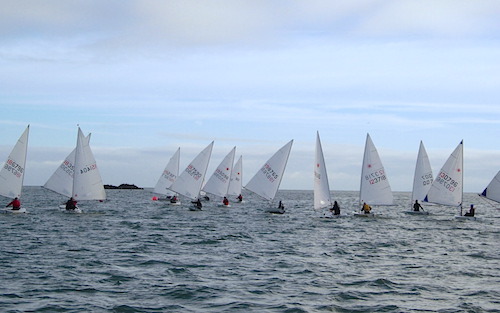 Ronan Cull continues to dominate the 40th Laser Frostbites at Howth Yacht Club after the fifth week of racing. Cull showed no let up in demonstrating a master class in Laser sailing to the rest of the fleet. Concerns that the forecast of a dropping wind would impact the second race never materialised as the light westerly wind actually increased slightly through the morning.
The strong flood tide meant the race committee were forced in to having black flag starts in order to keep the fleet from being pushed over early after general recalls in both races.
In race 1 the fleet arrived in a tight bunch at the windward mark. The run against the tide proved to be tricky for the entire fleet and resulted in a group of five boats getting a small jump on the rest of the boats ,which they held to the finish line. While Cull had a built a good lead to take the gun, the race for the other podium places saw the next five boats having a great race with Daragh Sheridan taking 2nd, from Dave Quinn, Darrell Reamsbottom and Ian Mc Sweeney.
Race 2 followed the familiar pattern of Cull storming away from everybody once again to take the win. Ronan appeared to really sail the runs well each time to pull away from the chasing bunch. Dan O'Connell showed good pace throughout to take a well deserved 2nd place. He was followed by Daragh Kelleher in third and a very tight finish between Dave Quinn 4th, Daragh Sheridan 5th and Darrell Reamsbottom in 6th.
Unfortunately the Radial fleet was missing the presence of the front runners this Sunday who were away training elsewhere. Carla Fagan and Ben Jennings took full advantage of this to record a race win each.
Daniel Hopkins continues to lead the 4.7 rigs from Alex Kavanagh and S Gallagher.
Hopefully the relatively mild temperatures continue for the two remaining Sundays.
Overall Positions-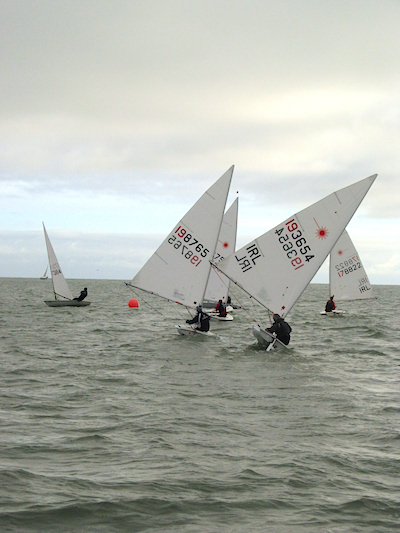 Full Rig:
1. Ronan Cull
2. Dave Quinn
3. Daragh Sheridan
4. Daragh Kelleher
5. Darrell Reamsbottom
Radial:
1. Aoife Hopkins
2. C. Twohig
3. Ewan McMahon
4.7:
1. Daniel Hopkins
2. Alex Kavanagh
3. S Gallagher
Registered in the Republic of Ireland. Registered No. 81187