Winners at the 2014 Achievers Awards Brunch
01 December 2014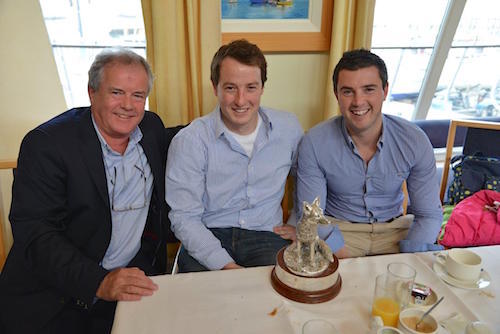 A multitude of nominees for the various different award categories enjoyed brunch before the 2014 Achievers Awards were presented to the winners on Saturday morning in HYC's dining Room and lounge. The winners from the short-list of nominees in the 6 categories were as follows: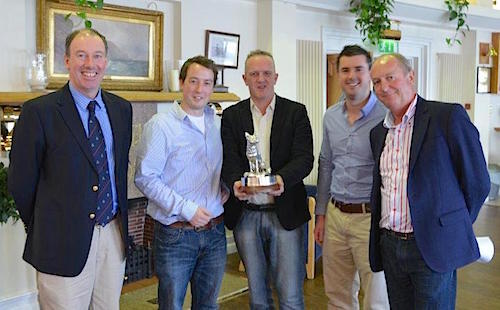 The Silver Fox Trophy (Excellence in racing, cruising or organising): HYC's 2014 Commodore's Cup Team of Dylan Gannon, Ross McDonald, Dan O'Grady and Norbert Reilly - presented by the Kelly family. The club is very proud of their role in this historic victory.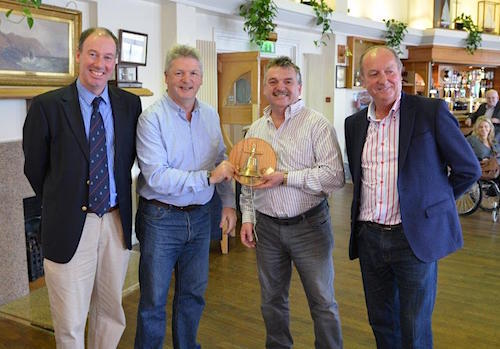 The Seaward Bell Trophy (Junior who excelled in open events at home or abroad): Robert Dickson and Sean Waddilove (Photo - Cliff Waddilove)
Another fantastic year for this 420 team - here is a brief synopsis of their season: 420 Munster championships winners - 420 Connaught championships winners - winners of ISA Youth Nationals – 20th at 420 Worlds in Germany – and competed at Junior Worlds and European Championships in Poland.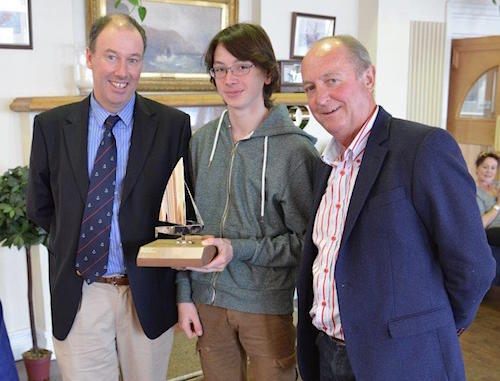 The GM Award (Junior sailor who best represents and enhances the spirit of junior sailing in the club): Oliver Juchnevicius
A great participant in sailing events, Oliver sails a Topper and won the June Summer and Claremont series as well as crewing and racing on a quarter tonner and Howth 17. Importantly, he is helping his Mum (Rima) to restore the Howth 17 'Eileen, which they plan to campaign next summer.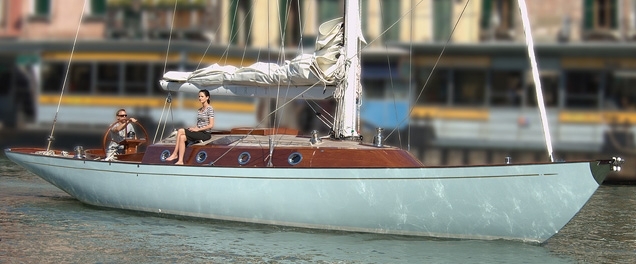 Boat of the Year: Soufriere (Stephen O'Flaherty)
Soufriere won the modern classic class at Panerai British Classic Week – a remarkable win for a remarkable and beautiful looking boat. This former 'Bond movie' boat also secured a multitude of line-honours during the year including at the finish of the Aqua Double-handed Challenge.
Volunteer of the Year: (jointly awarded) Myles Byrne, John Doran, Kieran Jameson and Riain Timon (absent)
This award was presented to 3 separate sets of nominees, all of whom volunteer tirelessly in respect of managing the club's vessels including RIBs, sailboats and race committee boats. Kieran managed the sailboats including dinghies and J80s, John looked after the Free Enterprise and Sea Wych and Riain and Myles took care of the RIB fleet as well as training up the RIB crews throughout the year.
Instructor of the Year: Graeme Grant (Acceptance speech)
Graeme's dedication and application to the club's needs in respect of sail training and instructor training is well known to most of our members. His win in this category is truly deserved and reflects his also winning the ISA Instructor of the Year in 2014.
The awards were hosted by Kevin Burke and prizes were presented by Commodore Brian Turvey and the event was also attended by most of the club's officers including Vice Commodore Berchmans Gannon, Rear Commodore Richard Kissane, Honorary Secretary Bernie Condy and Honorary Sailing Secretary Emmet Dalton. Caterer Jason Dunphy and his team presented a superb breakfast to the gathered crowd. See all the photos here
All the nominees:
The Silver Fox Trophy
2014

Excelled in racing, cruising or organising
Ross McDonald
Southern Child team
Tara Flood
Norbert Reilly, Ross McDonald, Dylan Gannon, Dan O'Grady (Commodore's Cup)
Simon Knowles and Dave Murnane (Aqua Double-Handed Race)
Chris Howard

The Seaward Bell Trophy 2014

Junior who excelled in open events at home or abroad
Aoife Hopkins
Jamie McMahon
Robert Dickson & Sean Waddilove

The GM Award
2014

Junior sailor who best represents and enhances the spirit of junior sailing
Jonny Flynn
Sam Markey
Oliver Juchnevicius
Ben McDonald
Lara Jameson
Eve McMahon
Daniel Hopkins

Boat of the Year

Excelled during the year
Dux
Storm
Soufriere
Team Dinghy Supplies
Kilcullen
HYC Team Red New York

Volunteer of the Year 2014

Selfless dedication to the club throughout
the year
Sara Lacy
Riain Timon and Myles Byrne
Kieran Jameson
John Doran
Ian Malcolm
Emmet Dalton

Instructor of the Year 2014

Outstanding service to members during the course
of the year
Mark Condy
Graeme Grant
Tara Flood
David Johnston

Registered in the Republic of Ireland. Registered No. 81187