Laser Frostbites avoid the chill as competition heats up
16 November 2014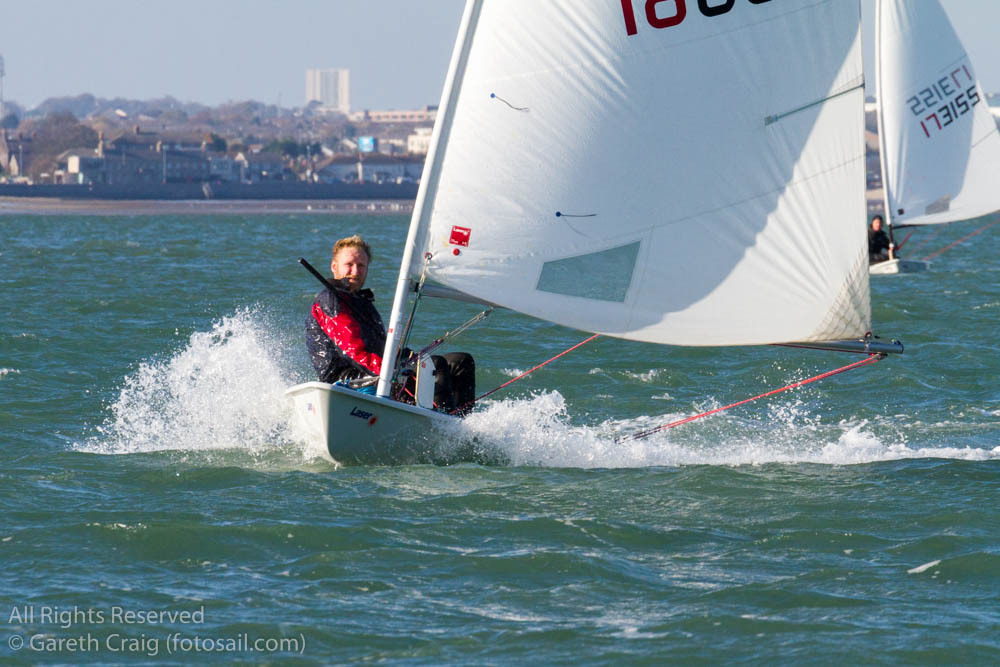 Sailors were greated with a mild day for the 3rd set of races of the Laser Frosbites. A 12-15kt easterly made for an interesting change for sailors with a sligth swell rolling down the channel. The 37 entries are enjoying ideal conditions for this 14 race series and the mild conditions continued again this week.
Wind - 12-15kt Easterly
Course - Race 1 W/L, Race 2 Olympic Triangle
Race Length - Race 1 26mins, Race 2 35 mins.
First Gun 10:45
Leaders:
Darragh Kelleher Standard Rig
Aoife Hopkins Radial Rig
Daniel Hopkins 4.7 Rig
Race 1
The race committee set a windward leeward course for the first race. With a low tide at 12:10, the big decision for race one was when the tide was going to turn. With the Ebb still running, those who went left on the first beat towards the Island gained the advantage. Ronan Cull and Darrell Ramsbottom came out best leading at the first mark. Ronan gave an exhibition in downwind laser sailing to extend away from the fleet. The rest were left to manage the waves and angles in his wake. Racing was tight with many place changes. Darragh Kelleher moved into second spot on the first run, a position he held to the finish. Darrell Reamsbottom, Mike Evans, Stephen Quinn and Dave Quinn were in close proximity all the way to the finish with Stephen Quinn pipping Dave Quinn on the finish line to get third
1st Ronan Cull
2nd Darragh Kelleher
3rd Stephen Quinn
4th Dave Quinn
5th Mike Evans
Race 2
By the start of the second race the tide had clearly turned. The second race saw a change of course to triangles. A committee boat bias and desire for the fleet to get right made for a busy committee boat start. Ronan Cull and Dave Quinn got off the line reasonably well and tacked right, as did most of the leaders. Ronan Cull, furthest right of the leaders, showed good speed to lead again at the first mark. A fast reach towards the Island mark spread the fleet out somewhat with Ronan Cull extending his lead by the leeward mark, followed by Dave Quinn and Darragh Kelleher. These positions didn't change for the sausage and final triangle. Daragh Sheridan recovered from a disappointing first race to finish 4th.
1st Ronan Cull
2nd Dave Quinn
3rd Darragh Kelleher
4th Daragh Sheridan
5th Darrell Reamsbottom.
Overall Darragh Kelleher leads on countback from Dave Quinn with Ronan Cull in third. Ronan is carrying a 13th so is very much in contention with all still to play for half way through the series. The Radial Class is also close with Aoife Hopkins just a point ahead of E McMahon.
Registered in the Republic of Ireland. Registered No. 81187