Consistency pays dividends for Autumn League contenders
04 October 2014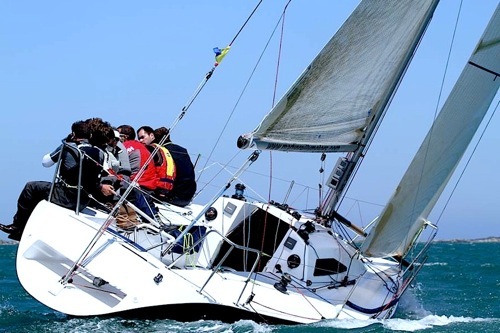 The by-now familiar blue skies for this year's Autumn League were accompanied by slightly cooler weather this Saturday, along with a brisk 13-20 knots of wind from the west. Other alterations from the previous 3 weeks of keelboat racing included the start of the Mini-Series and a welcome to some new entrants - Philip Smith's Bavaria Match 35 'Just Jasmin' and Paul Colton's Quarter Tonner 'Cri Cri' both from the Royal Irish Yacht Club, as well as Declan Murphy's Hanse 37 'Zuri' from Carlingford.
Following this weekend's races and with the exception of Class 3 in the main series, all other classes in the main series now apply a discard having sailed 4 races. In Class 1 Pat Kelly's J109 'Storm' continues to dominate IRC and ECHO with 'perfect scores' – now discarding first places in each division means that the competition looks to be left to compete for the minor places. The very competitive Class 2 divisions are a much closer affair, where Anthony Gore Grimes' 'Dux' is 4 points clear on ECHO, but only one point ahead of Richard & Michael Evans' 'The Big Picture' and a further 3 points back is the Swan-Freyne partnership on the other half-tonner 'Harmony'.
A win by Vince Gaffney's 'Alliance II' from the HYC Under 25 team in 'Kilcullen' means that they remain in those respective positions at the top of the Class 3 IRC division, while the 'Kilcullen' team top the ECHO division from Lionel McMurtry's 'Hellyhunter' following Lionel's race win this week. In Class 4 White Sails IRC, David Sargent's 'Indulgence' looks set to challenge the Hughes-Harris' Beneteau 40.7 'Tiger', as they are now positioned 2 points behind 'Tiger' following victory in race 4. 'Indulgence' leads the other 16 competitors in the ECHO division and Michael Fleming's second-placed 'Trinculo' by 6 points.
In Class 5 White Sails IRC, a win by Harry Byrne and his team on 'Alphida' closes the gap to one point between their Sunrise 34 and Emmet Dalton's 'Jebus'.
The large Puppeteer class on the 'inshore fleet' of one-design keelboats pushed a bit too hard on their start line and were given a general recall by PRO David Lovegrove, who then set a Black Flag and discipline was restored for the restart of their race and the busy start line. A race win for the Murphy-Costello 'Yellow Peril' and a second place for Colin and Kathy Kavanagh's 'Blue Velvet' did little to alter the leaderboard, but the top placed Gold Dust will need to be consistent to for the final 2 races after applying their discard this week. Cyprian Feeley's Cloud 9 leads the handicap division by 2 points.
Being short a crew member for this week's race didn't help the Flynn-Buckley team on the ISA Sailfleet J80s, as they watched John Phelan and his team win this week and take the overall lead from them by one point. The gradually improving results by Alistair Kissane's team (2nd for this race) puts their boat into contention also.
The closest racing of the day was reserved for the two Squibs Fantome (Ronan McDonnell) and Selik (Fergus O'Kelly) with the former crossing the line a single second in front! Most of the Howth 17s had to be content with contending for 3rd place after Peter Courtney's Oona and Marcus Lynch and John Curley's Rita held on to their early lead and finished 1st and 2nd respectively. Rita consolidated her lead in the scratch division while the handicap spoils look likely to be contended by Mary Faherty's Sheila and Tom Houlihan's Zaida.
The MSL Park Motors Mercedes-Benz sponsored Autumn League continues next Saturday afternoon.
(Top photo: the Class 2 half-tonner 'Harmony' powers upwind)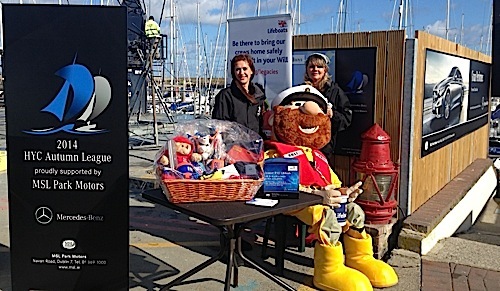 Below: MSL Park Motors Mercedes-Benz Brand Manager Dean Fullston presents all the daily prizes to race winners from last week.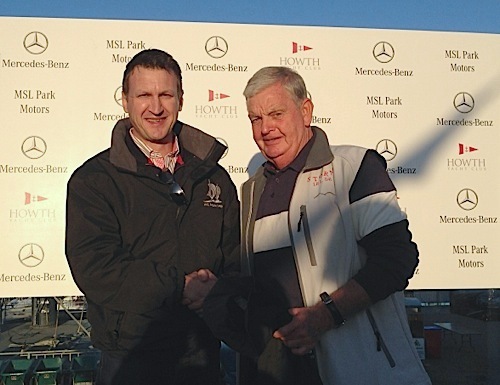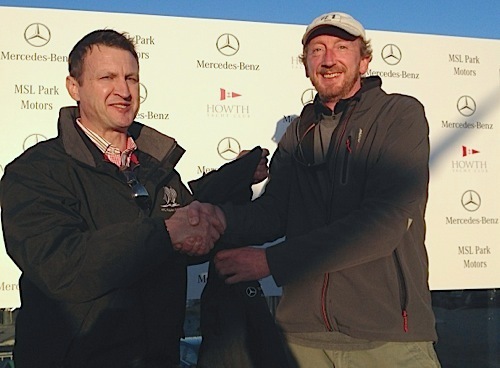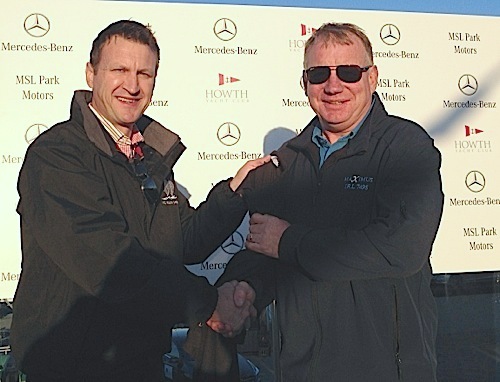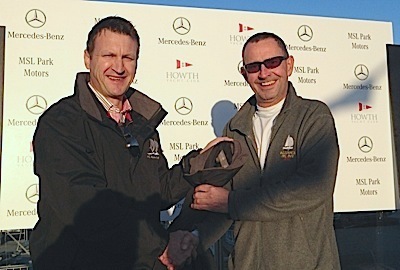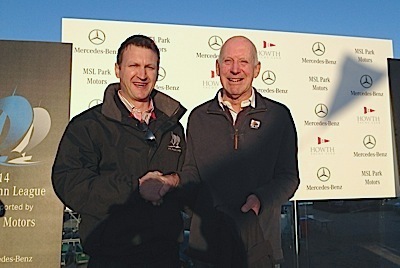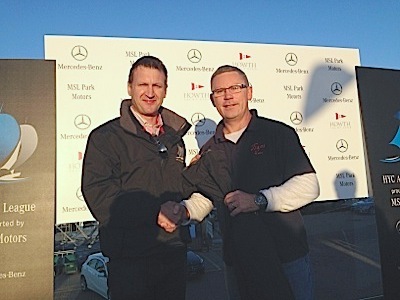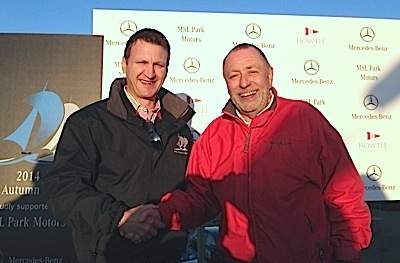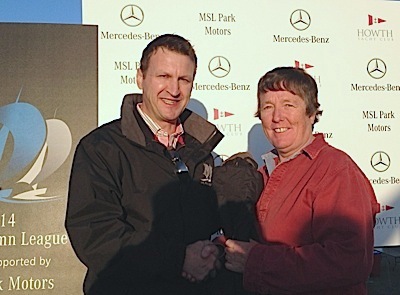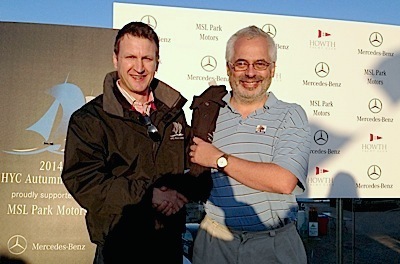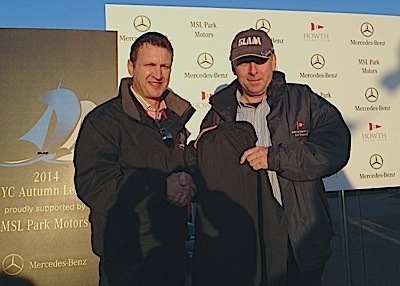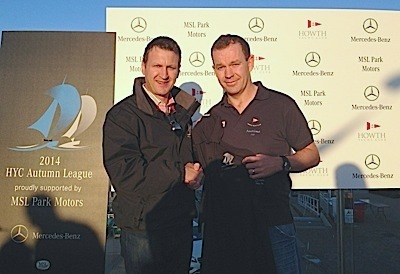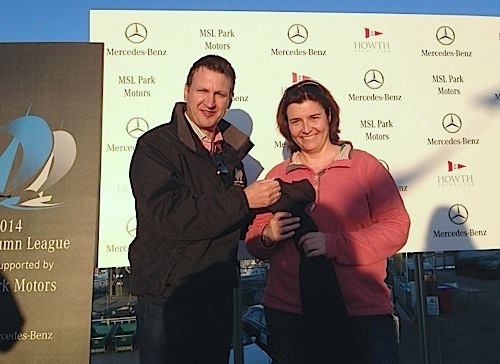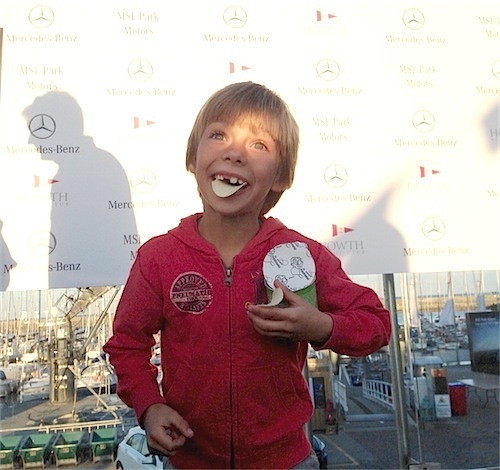 Registered in the Republic of Ireland. Registered No. 81187