'Dinghy Supplies' team win SB20 Midland Championships
28 September 2014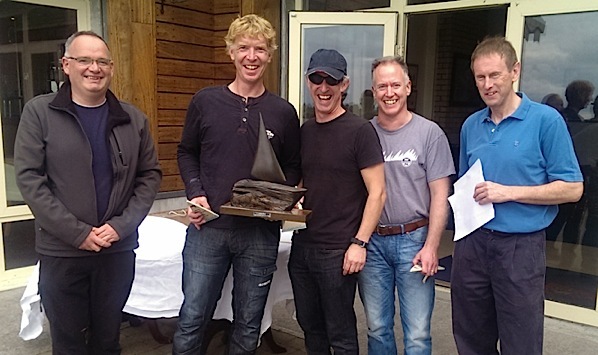 On a weekend of glorious late September weather a competitive fleet of 10 Sb20's made the journey midland for the championships in the always welcoming environment of Lough Ree Yacht Club.
With the forecast pointing towards no wind on the Sunday race officer Geoff O' Donaghue made the decision to hold 4 races on the Saturday to ensure a full series would be raced.
Race 1 was started in unseasonally warm weather with winds of 10-15 knots. Dinghy Supplies helmed by Darragh Sheridan won the race with Alert Packaging helmed by Justin Burke second and Should Be… helmed by Michael O' Connor third. Race 2 was again won by Dinghy Supplies with Yachtsman.ie helmed by David Taylor second and Should Be… third. The third race completed a hat-trick of wins for Dinghy Supplies with Corona Extra helmed by Graeme Grant second and Yachtsman.ie third. The fourth race became a bit shiftier with places changing regularly Yachtsman.ie sailed well to come through to win with Alert Packaging second and Dinghy Supplies third.
At the end of the first days racing Dinghy Supplies were leading by 3 points from Yachtsman.ie second and Alert Packaging third. The class were treated to the hospitality of Lough Ree Yacht Club on the Saturday Night with a very enjoyable meal and some late night socilaising.
Sunday saw more wind than expected and race officer Geoff O, Donaghue took the fleet out for 2 races in lighter winds. It was going to turn out to be a day that demonstrated that no overall lead is safe within this fleet. Both Dinghy Supplies and Yachtsman.ie were seen as the strong front runners and both contrived to make it all go to the wire. Race 5 saw The Bear helmed by Kieran Dorgan win with Monkey helmed by Keith Cassidy second and Should Be.. third. With both Yachtsman.ie sixth and Dinghy Supplies eight the regatta was open to the last race. Race six saw 2 boats over at the start with Yachtsman.ie going straight back and Dinghy Supplies having to hoist gennaker to go back when their number was called a minute into the race. This led to a tense race in shifty conditions for the overall pace setters. Corona Extra sailed clever and won the race with Monkey capping off a well sailed day in tricky conditions with another second and Should Be.. capping off a consistent series with another third. Dinghy Supplies moved from dead last around the first mark to finish seventh and with Yachtsman.ie finishing sixth this meant it was enough for Dinghy Supplies to clinch the title by a point.
Overall it finished Dinghy Supplies first, Yachtsman.ie second and Should Be.. third. With The Bear winning the silver fleet.
The Class would like to thank Commodore Denis Bergin and his team at Lough Ree for yet another great event. With special note to Geoff O' Donaghue and hie team for a weel run regatta on the water.
Registered in the Republic of Ireland. Registered No. 81187