Laser Qualifier at Pwllheli Sailing Club
28 September 2014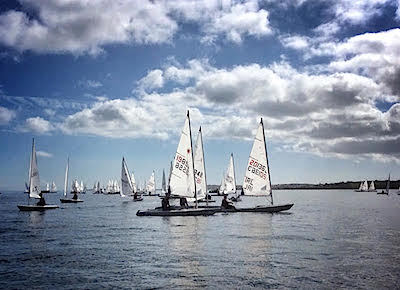 The 2014 UK Autumn Qualifier Championships were held in Pwllheli Sailing Club, Wales on the 27th to 28th of September. Howth Yacht Club sailors Aoife Hopkins and Ewan McMahon represented the Club and travelled to Wales to compete in the Radial fleet.
We set sail from Dublin to Holyhead on Friday afternoon after school. The journey was quite Swift and we arrived in Wales late evening. The event was set out as a training competition before the harsh winter comes in, but all the best laser sailors in Great Britain were there as it was a was one of a six part series which decides the British teams for international events for next summer.
Saturday was a light day of 5 to 8 knots with gorgeous blue skies. It was very shifty with tactical racing all day. Starts were also difficult as there was a large fleet of seventy-five radials. There was a pin end bias in each race, making it even harder to get off the line in clean air. Ewan had a reasonably good day with a 19th, 11th and a 40th (which was later discarded). Aoife had a 22nd, 42nd (later discarded) and a 27th.
The forecast for Sunday was not promising, with winds of 4 to 6 knots predicted. The first gun was meant to be at 10.00 but an indefinite postponement was soon put up due to the glassy water and general lack of moving sails. Fortunately the wind filled in and the start was set at 11.30. One race was sailed in the light, shifty conditions and Ewan sailed his best race in the Radial achieving a 7th position in the strong fleet. Aoife was a little further back in that race coming in mid thirties. There was a lack of a steady wind direction and boats were soon sent ashore to pack up and head home.
Our boats were packed up quickly and the early ferry was caught. Ewan managed an overall result of 11th and Aoife finished in a strong mid fleet position. The event offered great race experience and the weekend on the whole was well worth attending.
Report written by Aoife Hopkins and Ewan McMahon.
Registered in the Republic of Ireland. Registered No. 81187