GP14 Class welcomed back to HYC for Autumn Open
13 September 2014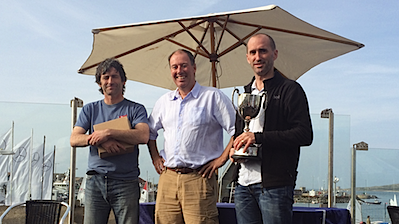 The Irish GP14 Class experienced Howth's two days of glorious weather, hospitality and sharp race management for their Autumn Open and Youth Championship.
Under the watchful eye of PRO Harry Gallagher, the fleet completed the full schedule of eight races, delayed for an hour or two on Saturday due to light winds, but completed in a steady Easterly force 3 on Sunday. There was something to test both the light crews and the heavyweights in super-flat seas and then fantastic surfing conditions.
The 2014 GP14 Autumn Open Champions are Niall Henry and Ossian Geraghty from Sligo. The wild men of the West just pipped Shane McCarthy and Damian Bracken by a point, followed two points adrift by the Under 23 Champion.
The "Littlest sailor in the GP14 land" was Howth's Daniel Hopkins who handled the three-sailed big boat in fine style on Sunday. Daniel has promised to grow quickly to challenge the burly boys in 2015!
Our neighbours from Sutton Dinghy Club dominated the Youth Championships with Daniel Gill taking the Under 19 Champion award and Eanna Moloney the Under 23 award.
(Top photo: Autumn Open winners Niall Henry and Ossian Geraghty collect their trophy and prizes from HYC Commodore Brian Turvey)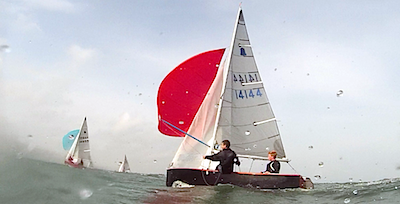 Registered in the Republic of Ireland. Registered No. 81187