Autumn League entries roll in as new sponsor announced
04 September 2014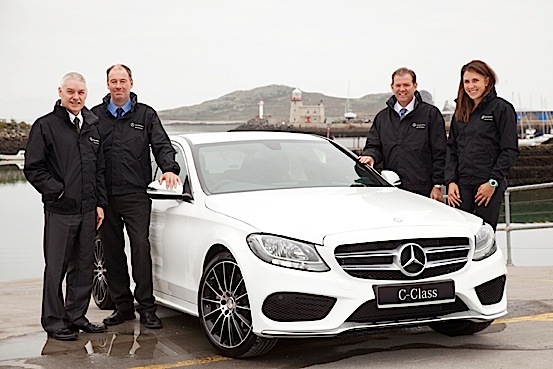 As this year's season highlight at Howth Yacht Club opens for entries, MSL Park Motors Mercedes-Benz have announced a three-year sponsorship deal for the Autumn League that is celebrating its 35th anniversary in 2014. With final date for entries of next Wednesday 10th September, entry-forms are arriving steadily with strong demand across all classes. Organisers are predicting a fleet of around 120 boats across in nine divisions starting on Saturday 13th September and ending on 18th October.
Although London 2012 Olympian Annalise Murphy was present for the press announcement on Tuesday 2nd September, the Laser Radial sailor won't be competing in Howth as she will be on the road in her Mercedes Vito Mixto, en route to the ISAF Sailing World Championships in Santander where she hopes to qualify for Rio 2016.
Cruiser classes 1 to 3 will have racing under IRC and ECHO handicaps as will two white sails divisions competing on a separate course between Ireland's Eye and Lambay Island. Meanwhile, Puppeteer 22's, Squibs, Sailfleet J80's and the classic Howth Seventeen footers will have a separate course inshore closer to Howth. Racing begins at 1430 on each racing day.
"Our new three-year association with Howth Yacht Club is a perfect match between a world class sailing club and our North Dublin Mercedes-Benz dealership at MSL Park Motors," commented Brendan Grace, Managing Director at MSL Motor Group. "Sports sponsorship isn't new for us but sailing and Fingal's beautiful coastline makes this event an ideal fit for Mercedes Benz."
And in a new development for the long-running series, racing has been switched from Sunday mornings to Saturday afternoon. "We made the change as we recognise that while competitors enjoy the half-day competition format, they also want to socialise with the other crews and friends after racing ends so Saturday makes better sense," commented Brian Turvey, Commodore of Howth Yacht Club. "The new timing will boost racing and bring the crews ashore in time for a great social programme at the club."
(Top photo L-R: Brendan Grace-Managing Director MSL Motor Group, Commodore Brian Turvey, Ciaran Allen-Sales Manager Mercedes Ireland and Olympic Laser sailor Annalise Murphy
Registered in the Republic of Ireland. Registered No. 81187