Howth Laser Sailors make good progress at 2014 Laser Nationals
01 September 2014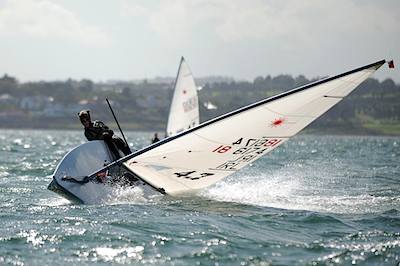 The 2014 Laser National Championships were held in Ballyholme Yacht Club, Bangor, Co. Down from Thursday-Sunday last week. Howth Yacht Club sailors were represented in all fleets. Mark Kennedy flew the flag for Howth in the Standard rig fleet while Aoife Hopkins, Ewan McMahon and Richard Hogan sailed in the Radial fleet and Daniel Hopkins did his first laser event in the 4.7 fleet.
Day 1 was a baptism of fire with winds in excess of 25 knots all the Howth sailors struggled (as did everyone else) to stay up right in those conditions. It was a day for the brave and strong!
Two races were completed in all fleets but due to the conditions the 3rd race of the day was canceled.
Day 2 with even more wind forecast the outlook for Friday was not good. The AP went up early and the sailors settled in to wait for the wind to die down. At 12 race officer Robin Gray made the decision to launch the fleet and they sailed as far as the race course. Unfortunately the wind grew even stronger and the fleet had to return to shore where they waited until 3 pm at which point racing was canceled for the day.
Day 3: four races had been lost in the championship so far and everyone was feeling the pressure. Luckily the weather could not have been kinder and 3 races were sailed in a 15-knot south westerly breeze. Unfortunately the SI's did not allow for a fourth catch up race to be sailed. All the Howth sailors had a good day with Aoife best being a 11th Ewan's best a 15th and Richard a 22th and Daniel amazed everyone (including himself !) by scoring a 5th.
Day 4: bright and Sunny but not a puff of wind. So the sailors waited and waited and waited finally the wind came in and rose quickly in strength but kept shifting left keeping the race team scrambling! The last race of the championship was sailed at 2 pm.
All fleets sailed 6 races (5 less than scheduled). The standard rig fleet was won by James Espey, Mark Kennedy finished in 38 th position overall. The radial fleet was won by Annalise Murphy, Howth's best finisher was Aoife in 15th (3rd youth lady), followed by Ewan in 20th a fantastic result for the 420 sailor, Richard finished in 31st and Daniel was 29th in the 4.7 fleet.
Event organiser Paddy Brow, Race Office Robin Gray and all the team in Ballyholme are to be congratulated on running a fantastic event.
(Top photo: Daniel Hopkins put's his Oppie days behind him!)
​Report by Laser Class Captain Niamh Hopkins
Registered in the Republic of Ireland. Registered No. 81187