2014 Optimist Nationals at Royal Cork YC
18 August 2014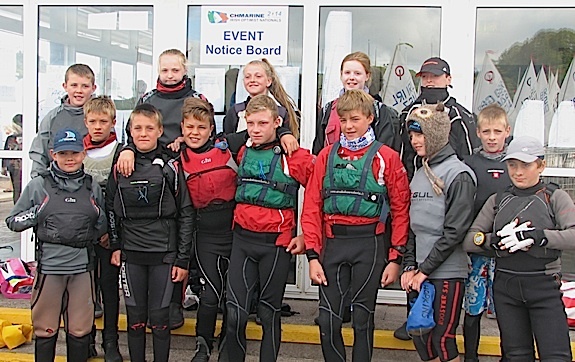 A strong contingent of 25 HYC Optimist sailors travelled down to Crosshaven for this year's National Championships. They joined a fleet of 196 competitors from Ireland the UK, Italy, Spain, India and Bermuda. 56 boats competed in the Senior fleet, 89 in the Junior fleet and 51 in the Regatta fleet.
On day one the Senior and Junior fleets headed to Ringabella while the Regatta fleet sailed at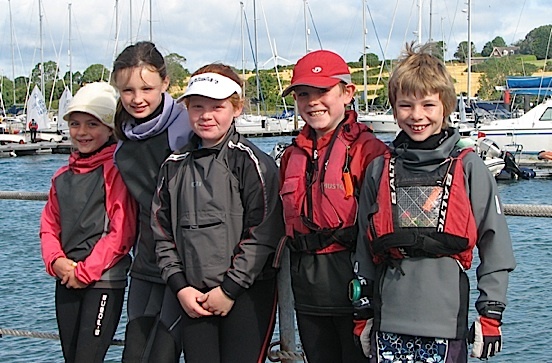 Curlane Bank. Winds were a steady 8 knots but there were a couple of nasty squalls and the main fleet managed to get 2 races in. Alex O'Grady in the Senior fleet had a solid start with an 18th. His younger brother Dylan scored an impressive 5th in the Junior fleet in the first race. Jamie and Eve McMahon also performed well on a day with some tricky wind shifts. Johnny Flynn had a good day in the Regatta fleet with a 21st and a 6th. Alice Lacy had a great 10th in the first race.
Day 2 saw the main fleet move to Roches Point which meant the sailors had a 90 minute sail to the start line. For the sailors new to main fleet it's a huge step up from club racing. Holly and Kirsty Quinn missed the first day after a problem with their trailer but both sailed very well in tricky conditions. Winds were 5/6 knots with stronger gusts of 10/12 knots but with more dramatic shifts to contend with. The breeze picked up for the 2nd race but dropped off for the 3rd which was shortened. Daniel Hopkins had a superb 2nd in the first race but was then black flagged in the next. Alex O' Grady was black flagged in the first but bounced back with a 6th in the 2nd race. It was that kind of day. Max Kavanagh , Conor Waddilove and William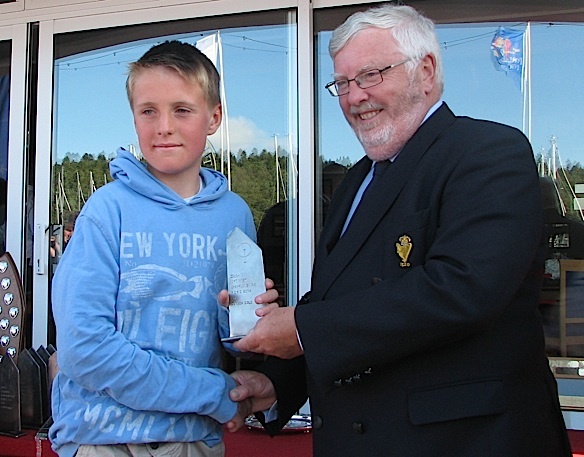 Lacy all made a very good start to the day finishing 6th,10th and 22nd respectively. Sam Crawford and Jack McMahon finished the day strongly with a 25th and 28th (3rd and 4th Silver). In the Junior fleet Jamie McMahon was very consistent with a 6th 13th and 5th. In the last race of the day Dylan McEvoy scored a very respectable 28th with Johnny Sargent right behind in 31st. In the Regatta fleet Luke Turvey and Aoife McMahon both shone on a tougher day with gusts of 12 knots resulting in several capsizes. Sophia Crawford braved the gusts and scored a very solid 17th.
Day 3 saw the main fleet move again to the eastern bank off Aghada. Winds were 5/6 knots rising to 10/12 knots but there was a very strong tide pushing the sailors over the line which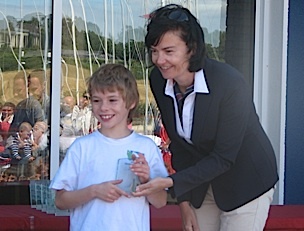 resulted in a lot of black flags particularly in the Junior fleet . Dylan Hugh and Johnny were all caught, Dylan McEvoy had a great 25th in the first race before being black flagged in the 2nd. Jamie had another great day scoring 2nd 3rd and 10th. Eve had an excellent 5th in the first. The first race also saw some great HYC finishes with Dylan O' Grady in 14th followed by Ruth Lacy in 15th. Oscar O' Luain travelling to his first event had an excellent 37th followed by Sophie Dix in 39th and Kirsten Quinn in 48th. Hugh Turvey had a great last race to finish 29th. In the seniors Alex O' Grady stood out with two 16th's and an 18th. The last race of the day saw Max Kavanagh finish 10th and Jamie O' Grady 11th. Shane O' Brien had an excellent 15th to be 2nd Silver.
The final day saw the winds increase again to a steady 15 knots. Two races were sailed at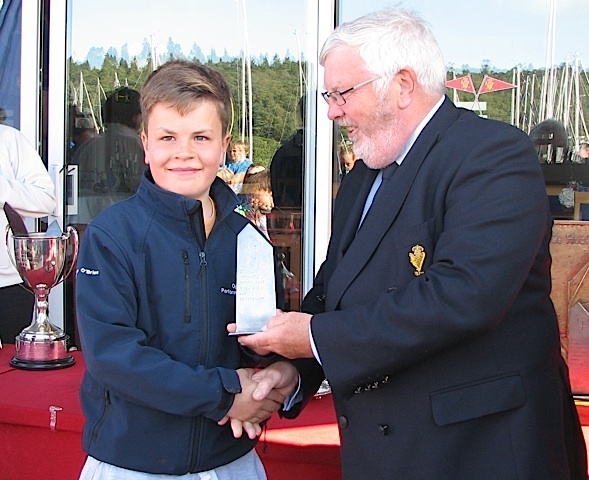 Aghada before the sailors headed back to shore and to the race office. It was great to see everyone smiling as they came in after a long week in tricky conditions. Moss Simmington from the RStGYC won the Regatta fleet with Luke Turvey 9th and best under 9. Aoife McMahon finished 10th Johnny Flynn 15th Sophia Crawford 27th and Alice Lacy 39th. Micheal O' Suilleabhain from KYC was a deserved winner of the open Junior title with 2 bullets and four 2nd places. Jamie McMahon had a great week to finish 4th Junior Gold and 3rd Irish. Eve McMahon had a great regatta to finish best under 10 and 1st Irish girl. Dylan McEvoy sailed very consistently to finish 5th Silver and 47th overall. Dylan O' Grady finished 34th Ruth Lacy 42nd Jonathan Sargent 53rd Hugh Turvey 58th Sophie Dix 73rd Oscar O Luain 74th and KirstenQuinn 80th. The Senior open title was won by Viva Heathcote from RIYMYC. Shane O' Brien and Sam Crawford both had a great event finishing 4th and 5th Silver. Alex O' Grady was best of the HYC squad finishing 20th Daniel Hopkins was 28th closely followed by Max Kavanagh in 29th. Jamie O' Grady was 31st Shane O' Brien 36th Sam Crawford 40th William Lacy 44th Conor Waddilove 49th Jack McMahon 52nd and Holly Quinn 56th.
Congratulations to all at RCYC for running a great event and to all the HYC sailors who all did exceptionally well in tricky conditions. Thanks to HYC coach Tim O' Leary for supporting all the sailors both on and off the water and to Niamh Hopkins for bringing down the HYC rib.
Tony McEvoy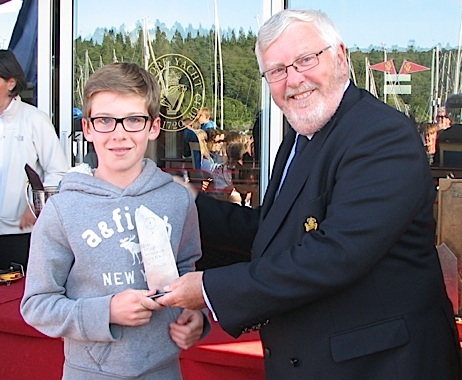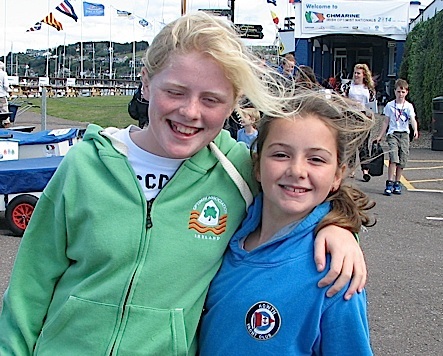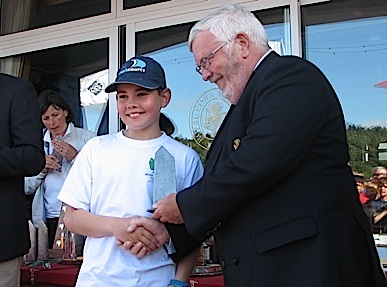 Registered in the Republic of Ireland. Registered No. 81187