Indian summer delivered for ICRA Nationals
11 September 2023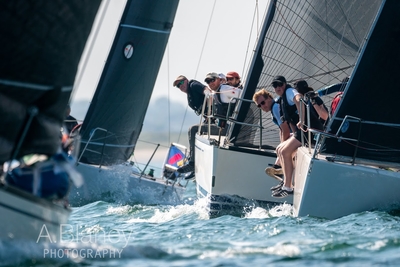 On Friday, 8 September, Howth Yacht Club hosted the monday.com ICRA National Championships Incorporating the J24 Nationals, for an unforgettable weekend of racing, dining, dancing, and even a good bit of sunbathing. It was the main on-the-water feature for the Howth Maritime and Seafood Festival, which also brought in throngs of people and gave ICRA attendees a chance to pop outside the Clubhouse gates for a nosy between races.
They were soon back at HYC though, as the DJ, the pints, and the chicken shawarma were too enticing to stay away for long. And if the craic was mighty on the hardstand, you can imagine what it was like for the sailors on Friday, when light easterly winds failed to develop into a fair racing breeze, and all fleets save the J24 class were out on the water in boats with nothing to do but enjoy one of the warmest days of the year. (The J24 fleet, under the watchful eye of Race Officer Derek Bothwell and his team, enjoyed a gentle east southeast breeze in time to complete a successful windward-leeward course of two laps. Kinsailor won it, Jade from Wicklow Sailing Club was in 2nd, and in 3rd place was Smugairle Roin.) Despite Friday's minimal racing, everyone enjoyed a sociable, beautiful sunny day on the water, with many crews taking the opportunity for a picnic and a swim.
Days 2 and 3
Saturday brought champagne sailing conditions with gorgeous sunshine, flat water, and a steady east-southeast wind of between eight and 14 knots. Four races were completed on all three course areas; the racing was close and competitive in all fleets, and none of the five divisions contesting their national titles had runaway leaders. All crews arrived ashore with a tanned smile on their faces to enjoy the equally warm welcome and reception provided by the Club. The Championship Dinner was also a happy event, with Jill Sommerville as MC, running speeches from Neil Murphy, Commodore, David Cullen, Commodore ICRA, Brain Raferty (Committee Member, ICRA), and Mark Usher (President of the J24 class). In a nutshell, the speakers all welcomed in the J24 fleet and agreed that the class brought a fresh, fun dimension to the event. A lively, impromptu singsong, led by Splashdance's bow man and guitarist Alan O'Brien, lasted three hours, during which dozens of merry crewmembers enjoyed their favourite songs, courtesy of Alan. Be there at the RIYC next year, Alan -- you run a great singsong!
Sunday morning, the racing was postponed for an hour. Despite the determined efforts by race management teams, there was no overcoming the weather, which delivered near calm conditions and torrential downpours of rain, that only allowed a race in Class 0 by PRO David Lovegrove and his team. This was won by Paul O'Higgins and his crew in Rockabill VI, in 2nd came John Treanor and his crew in ValenTina, and 3rd was taken by Pete Smyth and his crew in Searcher.
All in all, there were 27 clubs represented in the 70-strong fleet, from all coasts and some of the lakes of Ireland, too. There was a healthy representation amongst prise winners, demonstrating the good health in cruiser racing, nationally. The prizegiving was well-executed by Jill Sommerville and ICRA Secretary Denis Byrne, RCYC. Speeches came from David Cullen, who thanked the volunteers for running a great and memorable event, and Mayor Adrian Henchy, who was there to welcome competitors on behalf of Fingal County Council. Mayor Henchy too acknowledged the enormous voluntary effort that is required to run a successful event of such size.
The Winners
Four races with all podium results in IRC Class 1 ensured a win in this class -- and for the overall event -- to John and Suzie Murphy's Outrajeous at the monday.com ICRA National Championships; they will go on to represent ICRA at Irish Sailing's Champions Cup next month. Speaking at the prizegiving, John Murphy paid tribute to his crew on Outrajeous in a short and emotional speech, in which he revealed that after three years campaigning, he was close to calling it a day before this season. However, his friend and helmsman, Neil Spain, persuaded him to give it another year, leading to this weekend's joyous outcome.
The full 70-strong fleet representing 27 clubs from the coasts of Ireland plus inland venues saw Dublin and Cork boats win four of the six individual championship titles, whilst the fifth went to Courtown Sailing Club and the sixth to Bray Sailing Club. Amongst the big boat entries of Class Zero, Brian Jones, Jelly Baby from the Royal Cork Yacht Club (RCYC) had a narrow one-point win on IRC rating over John Treanor's ValenTina from the National Yacht Club. That result reversed under the ECHO Performance handicap, whilst Peter Smyth and his crew were 3rd in both IRC and Echo. In Class 1 in a fleet of 11 yachts, 1st was Outrajeous, 2nd was John Minnis and his crew onboard Final Call II, 3rd was John Maybury and his crew onboard Joker 2.
In Class 2 with a fleet of 10 boats, James Dwyer with his classic New Zealand half- tonner Swuzzlebubble, RCYC won after Johnny Swan on Harmony from the host club couldn't match the whole podium scoreline from Saturday's four races, 3rd was HYC Mata with the Wright, Sheridan & De Neve partnership.
In Class 3 with 13 entries, Joanne Hall and Martin Mahon onboard Snoopy from Courtown Sailing Club were victorious, that counted two race wins and all podium results, 2nd was Nico & Caroline Gore Grimes crew onboard Dux and 3rd was Brendan Foley, RStGYC and his crew onboard ALLIG8R.
In the Non-Spinnaker Class with 7 entries, 1st was Dermot Skehan and his crew onboard Toughnut, 2nd was Demelza with Windsor & Steffi crew and 3rd was Andy George and his crew onboard Splashdance.
David Bailey and partners with Hard on Port from Bray Sailing Club won the J24 national championship title over five races in their 20-boat fleet, 2nd was Kinsailor and 3rd was Tadg Loingsigh and his crew onboard Janx Spirit from Tralee Bay Sailing Club. This fleet also comprised of many of the Under 25 crews that are emerging from a number of clubs around the country as a pathway event into larger cruiser racing.
The U25 trophy was won by the crew on Kinsailor, hailing from the West Cork club, who were also placed 2nd overall and just three points off the overall winner.
For photos of the Prize Winners, please check out the ICRA Prize Giving Gallery
"Considering the challenging weather conditions that the race management team and competitors alike had to face, we've a super championship and Saturday's racing must count as one of the most memorable sailing days in Ireland of recent times," commented David Cullen. "We're already looking forward to next year's championship to be hosted by the Royal Irish Yacht Club in Dun Laoghaire, and we're keen to receive feedback -- good, bad or indifferent -- to help deliver a great event."
A huge thanks and appreciation go to the main sponsor, monday.com, and their representative, Martin McNamara, for their generous support and sponsorship of this memorable and successful event. In addition, grateful thanks go to all the brilliant volunteers who made this event the success that it was. Jill Sommerville, the Championship Chairperson, did an outstanding job in running the event; socially, it was a great fun event, whilst afloat Principal Race Officer, David Lovegrove, and his three teams delivered excellent racing in challenging and frustrating conditions.
For full ICRA results, please click here.
Our many thanks to John F M Leech, ICRA Communications, for his contributions to this article.
In Case You Missed it...
We had an opportunity to capture some great content over the ICRA event. We had a Social Media wall, video interviews with competitors, some amazing photos from David Branigan and Annraoi Blaney, lots of interest in the media like Yachts and Yachting, Afloat and SailWorld and finally a very creative video reel courtesy of David Branigan.
Social Media Wall
Click below to be taken to the social media wall, on which you'll see any post that @ mentioned HYC and used the hashtag #hyc23icra!
Our thanks to monday.com, Rope Dock, Fingal County Council, and the Howth Maritime and Seafood Festival, not to mention Irish Sailing, and the ICRA and J24 classes for all the social media engagement and encouragement. Our sponsors, monday.com and Rope Dock, provided (and in the case of Rope Dock, presented!) fantastic prizes each day of the race, and competition was as fierce in the photo contest ashore as it was in the racing on the water! Most of all, our thanks to the good natured sailors out there, climbing masts, jumping into the sea, or taking the time to provide a few soundbites on the race.
ICRA Video Interviews
During the event we got an opportunity to catch up with Dave Cullen, Commodore of the Irish Cruiser Racing Association to get his perspective on the event, Mark Usher, President of the Irish J24 Association, Nicole Hemeryck from ValenTina and also got onboard Final call to speak with John Minnis and Kilcullen to speak with Lara Jameson on the K25 team.
Check out the ICRA Video Playlist on YouTube
ICRA Photo Gallery
HYC were really fortunate to have the combined talent of David Branigan and Annraoi Blaney to capture the action of the ICRAs. While Friday and Sunday's weather meant they probably felt more like still-life rather than sport photographers, they both did an amazing job to distill the energy of the weekend into some impressive imagery. Check out the gallery below
Go directly to the full photo gallery.
Watch our Event Video Reel
The video reel below kindly provided by David Branigan helps you relive the event.
ICRA in the Press
HYC aren't the only ones shouting about this championship -- check out the write-ups in other outlets below.
Registered in the Republic of Ireland. Registered No. 81187