The monday.com ICRA National Championships are this weekend!
04 September 2023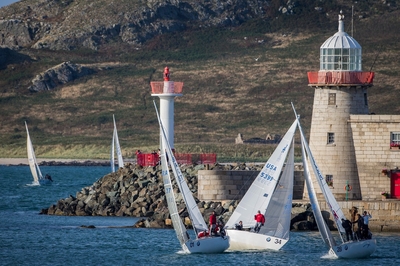 This week, Howth Yacht Club is looking forward to welcoming sailors and guests to the monday.com ICRA National Championships 2023 Incorporating the J24 Nationals, supported by Fingal County Council! The regatta will be sailed over the weekend of September 8th – 10th; we expect this to be an exciting sailing event with our race officer team being led and directed by International PRO David Lovegrove. The special opportunity to host the J24 Nationals as part of this event also means we will see a large contingent of U25 teams joining the fun.
With entertainment daily, a social media wall, a WhatsApp group to keep entrants in the loop, and both indoor and outdoor drinks and catering, we hope this will be a smooth and efficient transition from on-the-water to off-water activities.
All relevant information can be found on the Event Website.
In Howth village, the Howth Maritime & Seafood Festival will be held just outside the Clubhouse on September 9th and 10th (Saturday and Sunday). The festival is always a great day out, with lots of free family fun, live music, and the chance to support local businesses. Consider carpooling or using the DART (or other means of transport), as parking will be limited around the Club on Saturday and Sunday.
We encourage all boats to check in at the registration desk on Thursday evening, 7th September, to collect the sponsor's branding and admission bands, book Saturday evening dinner tickets, pay for camping etc.
To mark their sponsorship, monday.com have created a unique application to assist boat owners and crews managing their demanding schedules using the scheduling and integration features offered by the cloud-based system. Read more about them on our sponsor page, or visit their booth to learn more and to be in with a chance to win one of their specially designed prizes.
The Sailing Instructions will be published online by Wednesday, 6th September.
If you have any further questions, please feel free to email Event Team on [email protected], raise a question at the briefing on Thursday evening at 21:00, or ring the HYC Office on 01 832 2141.
Welcome to ICRA 2023!
Registered in the Republic of Ireland. Registered No. 81187