Laser Leinsters
11 August 2014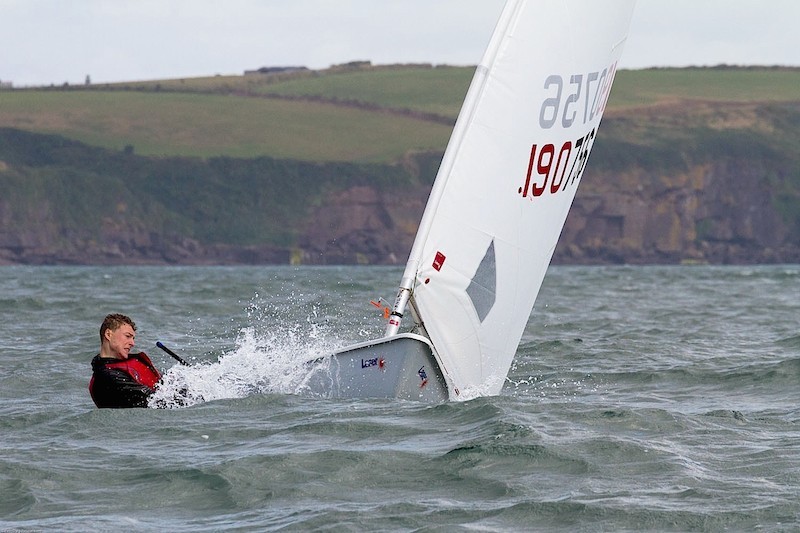 The Savills Laser Leinster Championships took place last weekend at Waterford Harbour Sailing Club, Dunmore East. Four sailors represented Howth Yacht Club at the event, with Ronan and Joe Cull in the Laser Standard fleet. Tom Mulligan and Will Quinn represented Howth in the Laser Radial Fleet.
Conditions on Friday evening were light and shifty, with about 8 to 9 knots. However, the wind increased dramatically overnight ahead of Saturday's racing to a fresh 17 to 20 knots offshore. A big swell, coupled with the fresh breeze lead to some fun, but challenging sailing conditions.
Ronan Cull got off to a great start on Day 1, with a 6th and two 4th's. The standard fleet was dominated by Olympian James Espey and Rio 2016 hopeful, Finn Lynch. Unfortunately, a bad capsize forced Radial sailor Will Quinn to retire from Day. Tom Mulligan sailed race 1, grabbing an 18th place, but retired from Races 2 and 3.
Day 2 was a relief to many, with lighter conditions. An offshore breeze of 16 knots dominated, and racing got underway. Ronan secured a 14th and 3rd, securing a 6th place overall. Joe also had a great two races, with a 15th and a 17th place. Racing in the Radial fleet was also going great! Will 2 of the 3 races, and Tom sailed all 3.
It was a great event, with some tricky conditions to sail in! There was many new faces the Laser Class, including myself, and all had a great event. Finally, would like to thank the organisers at Waterford Harbour SC for putting on a fantastic event. Good luck to all sailing in the Nationals later this month!
Registered in the Republic of Ireland. Registered No. 81187