Sun sets on Summer 2022, and Howth YC's Autumn League is launched
01 September 2022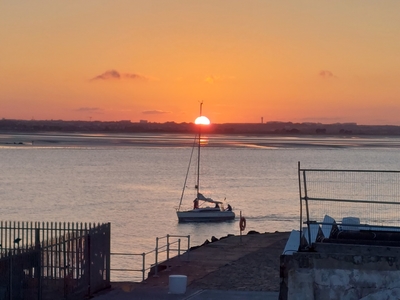 August 31st saw the final HYC evening race for 2022 completed with 18 boats taking part. They enjoyed a beautiful evening, with the 10 Knot breeze from the northeast belying the date and making it hard to believe that the 18-week programme of Tuesday and Wednesday races has reached its conclusion for another year.

The combined twelve boat Cruiser 1 and Cruiser 2 fleets, the two Cruiser 3s (the usual J24 component saving themselves for their J24 Europeans action during the day) and the four White Sails boats all fought hard at their respective starts, for the pole position at the pin-end of the shore-based starting line in Howth Sound. The course took the fleets east out of Howth Sound; north along Ireland's Eye, before turning west to follow the shape of the island, with an upwind leg then bringing them further north to a turning mark, which started the run back to the finish line in the Sound. The usual tactical challenges of racing around two sides of an island – with high ground affecting the wind – were further complicated by the initially ebbing tide turning to flood during the evening. Despite the challenges, the boats got back in time for the 20.16 sunset, the spinnakers reaching up the Sound into the setting sun, making a great spectacle for the evening walkers on the East Pier - see www.HYC.ie/results for the lists of who best managed the wind and tide!

As the door shuts on the Summer Series, the Beshoff Motors Autumn League is being launched. Racing this year starts on September 17th and continues until October 22nd, with a total of eight races scheduled for the six Saturdays. The event is open to all comers and racing will be provided for the handicap keelboats of Cruiser 1, 2, and 3, spinnaker classes, and the Whitesail Classes 4 and 5. The One Design racing for the Howth 17s, Puppeteer 22s and Squibs is always a high point of the series, and this year promises to be even more competitive, with all three classes having enjoyed a bumper season of racing. The Squib numbers, after a few years of decline, have seen a big recovery, and the 24-boat fleet that competed at the Eastern Championships in HYC over August 13/14th is testament to the new vitality in the Class. The Howth 17 Class enjoys a fantastically loyal group of owners, sailors, and supporters, and the Puppeteer 22s, with their regular 20-boat turnouts for Club racing, are almost certainly the biggest one-design keelboat fleet in Ireland.

A full programme of aprés-sail activity is planned for the Autumn League, which the two-year COVID hiatus and its required 'social distancing' put a damper on in 2020 and 2021. Entries close on Sept 13th, after which a late entry fee will be required. The Notice of Race and entry form can be accessed online at www.HYC.ie/Open-Events
Registered in the Republic of Ireland. Registered No. 81187