Squib Easterns title pinched by 'Fagin'
15 August 2022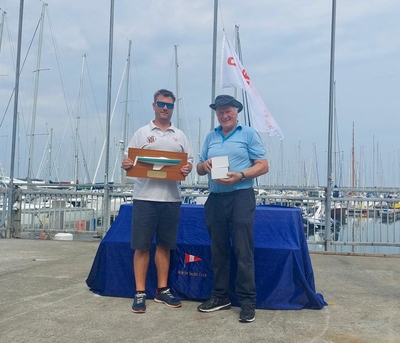 Over a sweltering weekend, twenty-four Squibs from all over Ireland and from Wales competed for the challenge Eastern Championships at Howth Yacht Club. Pinching the title like the light-fingered Dickens character, "Fagin" (Patterson/Nolan – RNIYC) posted a solid string of results in light and tricky conditions.
The podium was completed by "Firecracker" (Bridges/Ferris – Killyleagh YC) and "Granat" (Stewart/Hare – RIYC). The first HYC boat was "Kerfuffle" (Dalton/Merry) in 4th.
The Silver Fleet was won by HYC's club boat "Tiger Roll" (Fagan/Quinn), pictured below, which romped home on Saturday afternoon with a race win. This achievement was roundly and the support from Batt Sails and the National Squib Owners' Association was roundly applauded by the fleet.
Pictured "Tiger Roll" (Carla Fagan and Stephen Quinn - HYC)
Principal Race Officer Derek Bothwell presided over his racecourse with the efficiency and timeliness with which various classes have been spoiled. Not many PROs would have kept their cool in light shifty breezes overlaying Spring tides but our Derek made it look easy.
HYC members who offered berths on their boats for visitors were given special thanks. With a lack of local accommodation, it's those members that made the event viable for many of the travellers.
People of note included the HYC Squib Class Captain, Ronan MacDonell and Technical Committee Chairman and Logistics Manager, Fergus O'Kelly. Fergus also selflessly corralled Friday's and Saturday's post-racing socials.
CLICK HERE FOR PRIZEGIVING GALLERY
Emmet Dalton
Honorary Sailing Secretary
Registered in the Republic of Ireland. Registered No. 81187