This Saturday - the Marina Party Returns!
30 June 2022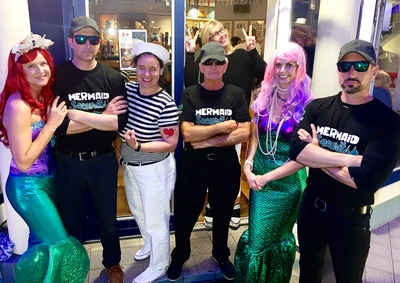 The long-awaited return of the HYC Marina Party this Saturday will be a welcome opportunity for boat owners to invite family, friends and neighbours onboard for a night of top class hospitality and fun.
LED 'rig lighting' and festoon strings are not compulsory, but will add to the occasion and to what promises to be a warm and dry midsummer evening.
Crews and guests will be encouraged to avail of a special hospitality service from Frank and his team in the club; click here to see the special takeaway menu made especially for the Marina Party. 2FM DJ Graham Smyth will retake his elevated stage on the bridge of HYC's flagship 'StarPoint' and will provide a lively beat for those dancing on the floating dance floor.
The Marina and Marina Walkway will be decorated in festival lighting, adding an atmospheric welcome for guests and Howth boats returning home from cruising and racing after events like Saturday's Royal St George Regatta.
There will be special prizes awarded for the best-dressed boats and best-dressed crew, so don't be surprised to see the club filled with old pirates and young mermaids as the evening evolves. Whilst many will want to start the evening early with dinner in their cockpits, the event will certainly get going at 20:30 when DJ Graham gets the party mood going and will keep the beat going until midnight.
In order to help the organising team and hospitality staff prepare the necessary resources, skippers are invited to register their boats and expected crew numbers in advance here:
https://form.jotform.com/201806157963055
Registered in the Republic of Ireland. Registered No. 81187