WAVE Regatta 2022: A Soaring Success
07 June 2022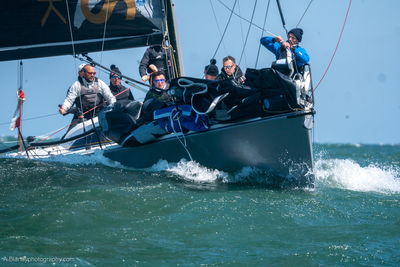 Well, ladies and gentlemen, the votes have been counted and the results are in: WAVE Regatta 2022 has wrapped, and Howth will never be the same. The biennial, three-day festival – which featured some of the best racing, wing-foiling, and partying that Ireland has seen in years – was originally scheduled for 2020, but had to be postponed due to Covid. This past weekend, neither the pandemic nor the moody skies (nor one of the chillier June Bank Holiday weekends in recent memory) could keep the sailors and their supporters off the water…or off the dance floor. After an auspicious start on Friday night, with the after-work crowd creating a buzz, the festival reached a fever pitch on Saturday, with drinking from trophies, dancing on tables, and even a few pyrotechnics being reported. And the chill in the air on Sunday was quickly snuffed out by warm drinks and cozy pub vibes coming from the Clubhouse; DJ Covell relocated his table to the safety of the tents, and the party raged on inside, undeterred by the wind and the rain. And that was just the happenings ashore!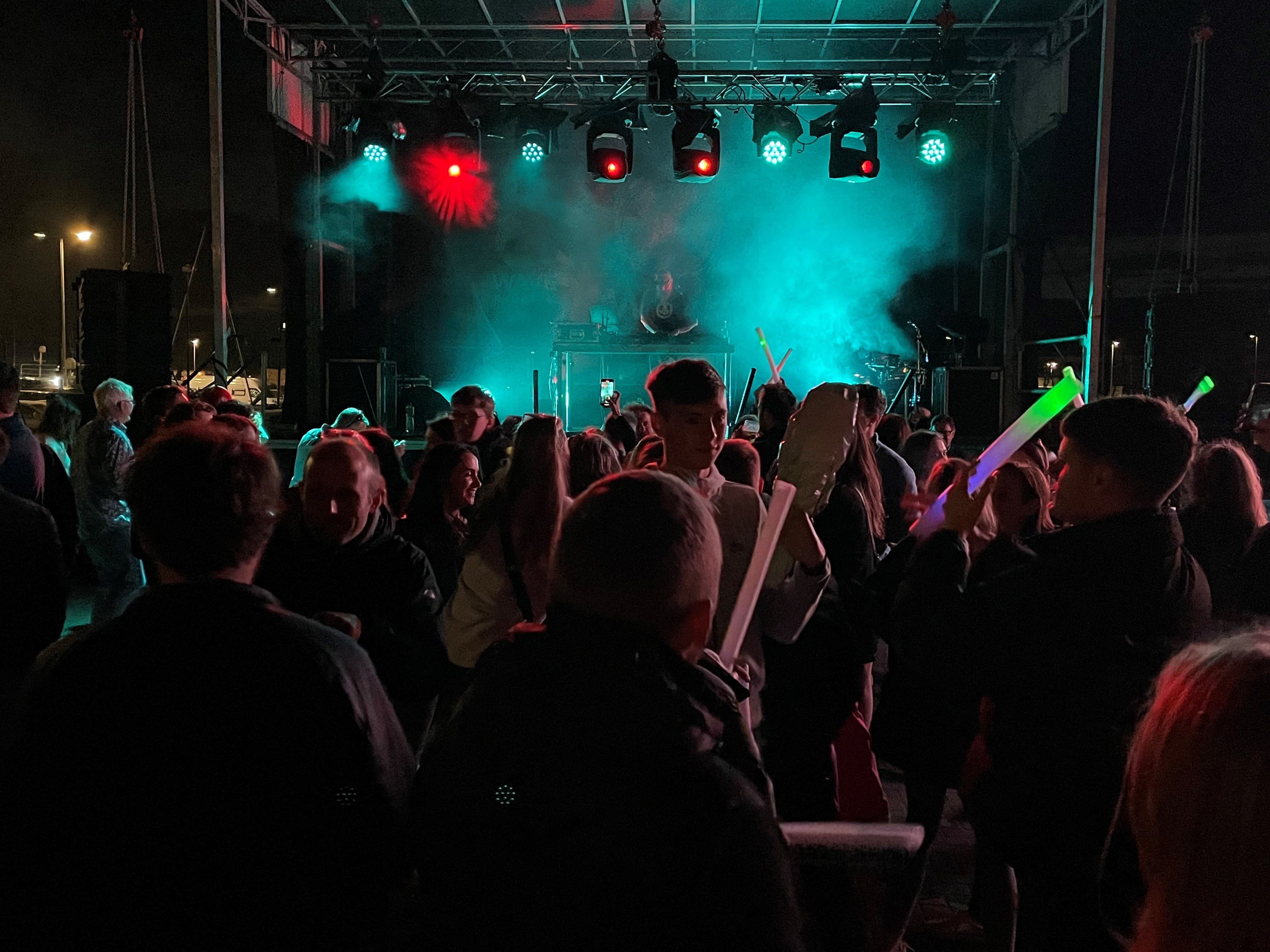 For all the drama on the water, please enjoy the following from our very own William M. Nixon:
Wave 2022 at Howth, with main sponsors the Wright Hospitality Group, has been a three-day regatta of all the seasons, including today's (Sunday) localised attempt at a mild monsoon. But the most important ingredient of wind was always present - albeit almost to excess for Saturday's Lambay Race - and Senior Race Officer David Lovegrove and his teams furnished Organising Committee Chairman Brian Turvey with a very complete set of results.
In an event of such diversity, settling on an overall champion is decided by various semi-secret formulas. But after considering a bewildering array of data, the Committee came down in favour of seasoned local skipper Dermot Skehan with the veteran MG34 Toughnut, who not only won Class 5 overall with minimum points but collected the Lambay Lady for best performance in the central event while he was on his way to the longterm success.
Yet the racing provided something for everyone. On Belfast Lough, a rugged nor'easter is regarded as "a good sailing breeze". And certainly it was an all-conquering performance in precisely those conditions during yesterday's (Saturday) Lambay Race which propelled John Minnis's A35 Final Call II (RUYC & RNIYC) to the front of the fleet in Class 1 in Wave, with another couple of handy Minnis wins today – raced in the sometimes very damp but eminently serviceable easterly – confirming that one of the top prizes heads very definitely north.
Nearer home, Clontarf is so named because it means Bull's Roar, and that's the noise the non-nautical natives in the distant past reckoned they were hearing from their beach on Dublin Bay in an onshore gale. Since then, Clontarf folk have got to grips with seafaring, and Pete Smyth of those parts – but now sailing out of the National YC with his Sunfast 3600 Searcher – likewise got profitably to grips with the Lambay breeze to place him nicely to place second Class 0 overall astern of Crosshaven's Jelly Baby after today's results were collated.
The Jones family with Jelly Baby put together an extremely convincing series. Last year, when Crosshaven's Nieulargo won the Dun Laoghaire to Dingle Race, the Royal Cork revived a 19th Century tradition by giving her a nine gun salute as she returned to Crosshaven. Jelly Baby surely deserves something similar.
For some crews, a soothing rainfall today was just the ticket to put a bit of colour back in their cheeks after the Wave's fierce entertainment of an Ibiza Night to round out Saturday's hectic sport afloat with matching high decibel and high intensity socialising ashore – genteel Set Dancing this was not.
CLASS 0
It was raced to the end, for though Searcher (Peter Smyth) had emerged as a force to be reckoned with, the early consistency of Crosshaven's Jones family with the J/122 Jelly Baby provided the foundation for them to take the title with a win in today (Sunday's) second and final race, making it 4.5 points over Searcher. Patrick Burke's First 40 Prima Forte (RIYC) was a solid performer, discarding a 6th even if she never got a win, and she came home 6 points behind Searcher.
CLASS I
Going into this regatta, the main billing for Class I was as the Eastern Championship for the J/109s, and they certainly were there in droves. But they proved to be the largest group of bridesmaids ever assembled. Once John Minnis's Final Call II had found form after a 4th in the opening race, the advance of the Archambault 35 was unstoppable and her two wins today (Sunday) gave her a massive victory of 10.5 points to the hard-won 20.00 of Mike & Richie Evans gallant little J/99 Snapshot (HYC), with Andrew Craig's Chimaera (RIYC) first of the J/109s in third to take the Easterns as a bonus.
CLASS 2
Finding herself in among a group of hot Half Tonners failed to dent the dogged persistence of Stephen Quinn's J/97 Lambay Rules (HYC), but in this class there was extra pain with any no-show in the Lambay Race carrying its own unavoidable penalty of 9 points. Thus although Dave Dwyer's recently-acquired classic Bruce Farr Half Tonner Swuzzlebubble (RCYC) was undoubtedly the form boat by the series end, she'd demurred at the Lambay Race fence to knock her points total astray, making it doubly ironic that a boat called Lambay Rules (which are about something else altogether) should take the win by a massive margin. Just 9.5 points to the 20 of Dave Kelly's Half Tonner King One (Rush SC) and the 22.5 of Nobby Reilly's Ghost Raider (HYC), a former Checkmate.
CLASS 3
Class 3 with 14 boats completed two races, and it was seasoned X class Dux (Caroline & Nico Gore-Grimes HYC) took the overall win on 6.5 points from No Excuse (Wormald, Walsh, O'Neill, HYC) on 14.5 in second and another X class, Paddy Kyne's Mazximus third on 20 points.
CLASS 4
This was an overall win for Malahide in the form of David Greene's White Pearl, which had it by just one point from Colm Bermingham's Elan 333 Bite the Bullet (HYC), with Kieran Jameson's Sigma 38 Changeling (HYC) in third.
CLASS 5
Dermot Skehan continued on top form with two further wins in the renowned MG34 Toughnut (HYC) to give him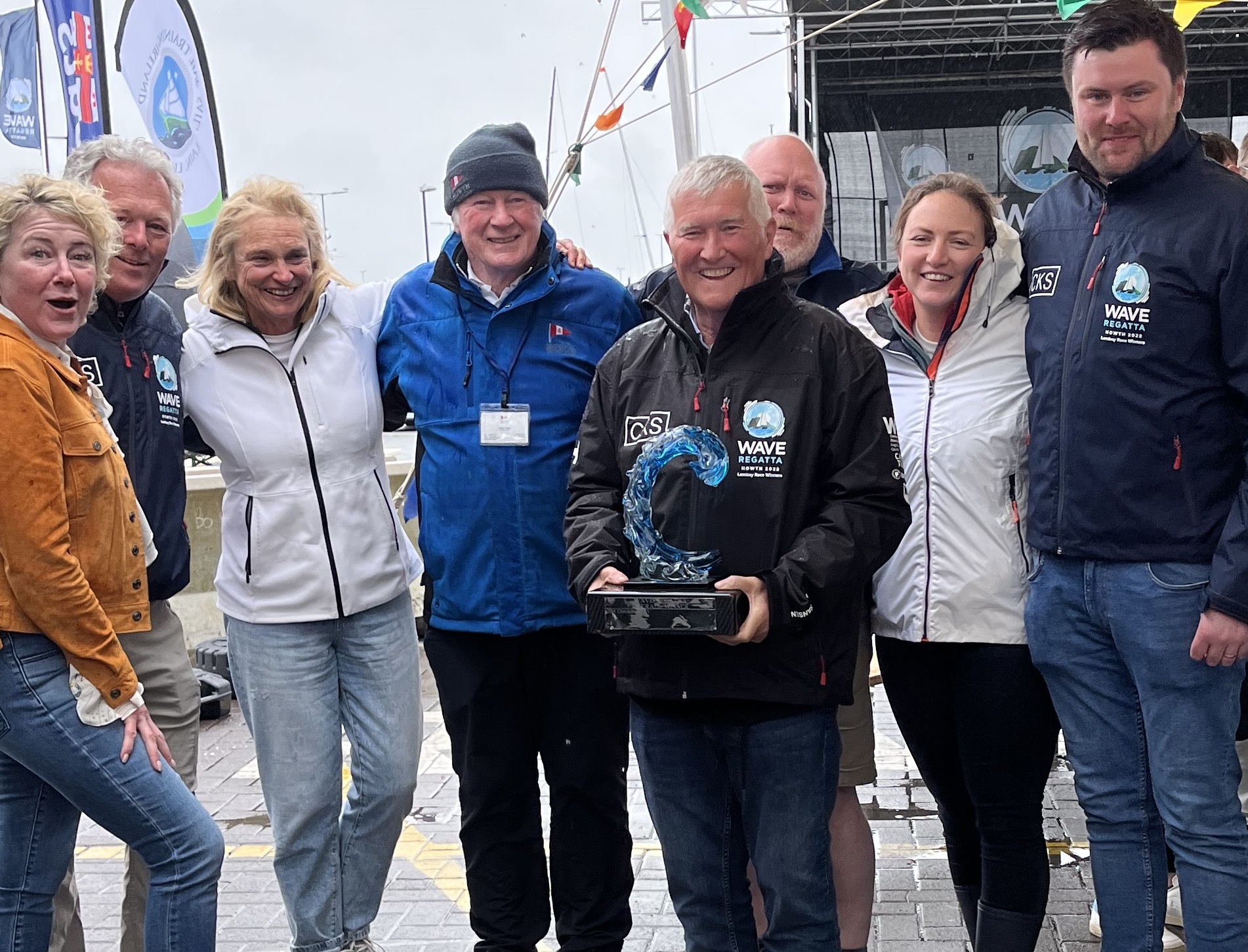 net points of 5.5, the lowest in all classes and thus the overall title too. Steffi Ennis was second with the equally historic Demelza, and yet another blast from the past, Terry McCoy's First 38 Out & About, was third.
J/24
Mark Usher from Greystones with Jumpin' Jive had such a run of firsts that he didn't need to sail the final race, yet he was four points better at the finish than Brian McDowell of Malahide, with Howth's K25 crew third.
J/80
This was largely inter-varsity sailing, but private owner Paddy O'Neill with the internationally successful Mojo was right there to win overall, UCD1 taking second, TUD (the new Dublin Technical University) taking second, and UCC getting third.
SIGMA 33
Howth's Stephen Mullaney with current Irish Champion Insider continued ahead right to the end, but David Marchant of Dunmore East continued his upward gradient as the regatta progressed, and a 3rd and 1st today (Sunday) saw him firmly in second overall with Flyover, third going to the RStGYC's Boojum (Stephanie Bourke & Gus Legge.
COPING WITH VOLATILE WEATHER PATTERNS
Wave 2022 was sailed in the kind of weather when, each evening, the television weather presenters seemed to introduce a new meteorological development which hadn't been mentioned at all the day before. Yet for the competitors who could stick the pace, there was racing – lots of it – to be had every day, And when everyone is nice and warm and dry and the bruises have started to fade, the memories of the hyper-bright times of sunshine will take over from the grey of the final day.
But either way, it couldn't have been done without a large voluntary input. Brian Turvey and his team had assembled a corps of 57 volunteers and enthusiastic sponsors to keep this particular show on the road through some tough circumstances. We salute them all.
For full results, please click here.
-- W M Nixon for Afloat Magazine
Howth Yacht Club was proud to play host to such an epic event and a brilliant bunch. We were delighted to welcome not only our neighbours from across the bay in Dun Laoghaire, but boats from across Ireland and the UK; from the Royal Cork Yacht Club, and the Galway Bay Sailing Club, to the Royal Ulster Yacht Club, and Pwllheli Sailing Club in Wales. To see the way staff and members of HYC pulled together for WAVE Regatta – to not only perform in difficult and uncomfortable conditions, but to excel in them – is a testament to the community spirit of Howth, and the unrivalled passion for sailing that hails from this peninsula in particular.
A huge thank you to our generous sponsors: the Michael J. Wright Group, Euro Car Parks, WD-40, Fingal County Council, Cassidy Travel, and CKS, and to our charity supporter, Sail Training Ireland. Applause and our heartfelt gratitude go to the Race Management team (some 50-strong), who played a blinder in tricky conditions, taking everything that the weather and circumstances threw at them and turning it into a solid gold experience for our racers. Our thanks, too, for the rib drivers who went above and beyond to facilitate the paddleboarding and wing foiling for all participants. Speaking of wing foils, Francoise Colussi and his team at Pure Magic Sports were unreal, providing incredible support to the event; Pure Magic integrated seamlessly into the Regatta, adding colour, sparkle and great craic to the entire weekend. And of course, we are so grateful to Knights Catering, our live bands (Off the Wall, Riff Shop, and The Soundmen, and Pablo Sax), and DJ Extraordinaire Mark Covell, for bringing the festival feels and all-night entertainment to HYC. There were many times over the past two years that we wondered when we'd hear live music, or jostle with pals for a pint at a busy bar, ever again; this past weekend was a celebration of life in Howth and a happy sign of things to come.
That said, our biggest thanks goes to the community of Howth. Everyone from the Harbourmaster and his team to the local gardai gave their support to WAVE Regatta, and to see the people of this unique, wonderful community come together to enjoy a bite to eat, or race a boat, or dance the night away, was so special. While there will never be a celebration quite like this one, we can't wait to see what WAVE 2024 has in store for Howth Yacht Club…
For the full gallery of photos from WAVE, please click here!
Registered in the Republic of Ireland. Registered No. 81187