Wave Regatta Expects Numerous 'Big Boat' Entries
09 April 2022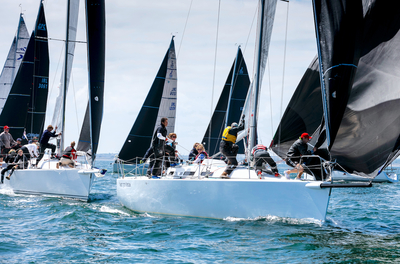 With less than two months to go before the first races in this year's Wave Regatta in Howth, entry levels across all classes reflect the pent-up demand for top class sailing events and anticipation of a return to near-normality from sailors around the country and beyond.
The Class 1 start-line might be one of the largest ever seen in Ireland - no doubt encouraged by the provision of deep-water berthing in Howth's inner harbour, owners of these deepest-keeled racing boats have been quick to recognise the opportunity to enter and join a highly competitive racing fleet for the first time in many years.
In tandem with the rapidly-populating entry sheet, International Race Officer David Lovegrove and his team are building their race course plans to cater for the demands of both the large IRC fleet and one-design keelboat classes including Sigma 33s, J/24s, J/80s and 1720s as well as indigenous local classes such as Puppeteers, Squibs and Howth 17s. Many J/24s will plan to use the event as an 'acclimatisation' for their Easterns and European Championships which will be held in the same waters off Howth in August. This will present Wave Regatta as an attractive option for the many young teams including the vibrant Under-25 cohort that are enjoying superb growth in that class this year. The 'youth' theme will be further buoyed by the recent move to include some of the university sailing teams within the J/80 Class for the regatta.
Teams trailering yachts to the event (including sportsboats) are being encouraged to enter as soon as possible so that trailer storage during the event can be efficiently accommodated. See
notice of race
for crane arrangements.
The shoreside experience is also growing in ambition and Wave Regatta's entertainment co-ordinator Grace McAleese explains: 'We've been thrilled to benefit from the generous support from sponsors Fingal County Council, Michael J Wright Group, Euro Car Parks, WD40, Cassidy Travel and the recent addition of CKS Finance. This allows us to create a shoreside experience that breaks boundaries - even for such a major sailing event. We can't wait to present the full weekend of entertainment and hospitality'.
Registered in the Republic of Ireland. Registered No. 81187