HYC Squib Class celebrates 2021, as antifouling dries for 2022 season
01 April 2022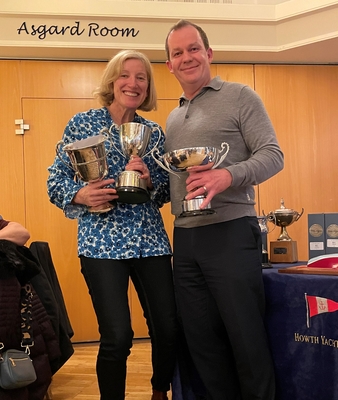 A select group of Squibbers and entourage gathered in HYC on April Fool's Day to bookend the 2021 season. Trophies were awarded for hard-fought series and war stories traded, many becoming more unbelievable as the night went on. The Class Captain, Ronan MacDonell, noted that, despite nature's best efforts, barely a race was lost and the turnout was strong on Tuesdays and Saturdays. At least one new boat comes to the fleet for 2022, with two or more returning to the fold including the resurrected HYC boat "Lazy Liadh". More on that in a future article.
Emer Harte's "Puffin" took a sizeable haul in 2021, with "Kerfuffle" (Emmet Dalton) also raiding some silverware. Relative newbie Peter Malone in "Halloween" went home with the coveted Noel Casey Trophy for a stellar improvement in performance during the season. "3point9" (The boat you always promised yourself but were afraid to buy), in the hands of Fergus O'Kelly and the cast of Ben Hur, nabbed some glass and beer tokens.
Click to go to prizegiving gallery
The National race circuit continues to swell. An open Spring series in Killyleagh precedes the North of Ireland Championships at the same venue in mid-May. The Class will have its highlight in June with our friends in Kinsale putting on the Greatest Show on Earth (A.K.A. the combined Squib Nationals and Irish Championships) and Howth will be represented by at least two boats. HYC then hosts the Eastern Championships in August, with another trip to Cork for the Southerns in September. A number of Howth's brave will saddle up and blast a hour down the M7 to Dromineer for the Inlands in October.
If you fancy a spin in a Squib, get in touch with Class Captain Ronan MacDonell at hycsquib@gmail.com
Report by Emmet Dalton
Registered in the Republic of Ireland. Registered No. 81187