Munster Technological University dominates IUSA Keelboat Championships in Howth
27 March 2022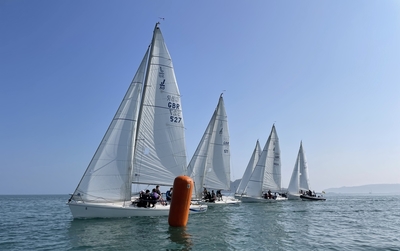 Munster Technological University was crowned the Western Yacht & Small Craft Services IUSA Keelboat Champion during a weekend of glorious sunshine in Howth.
Skipper Harry Durcan and his team Ronan Cournane, Mark Murphy, Morgan McKnight and Charlie Moloney topped their Saturday qualifying group only 2 points ahead of nearest rivals TCD. Some "Interesting" spinnaker hoists and drops made sure that the dominance of some crews upwind was frequently equalised downwind. By the close of business on Sunday, MTU had an impressive lead of 12 points over second placed UCD, with TCD 2 points further behind. That scoreline belied the closeness of the competition with a number of races decided by hairs' breadths.
Click to A. Blaney Photographer Gallery
Principal Race Officer Scorie Walls and her ever-professional team ran eighteen races over two days. The Daylight Savings Time change was not the main reason for some teams' late start on Sunday morning but cobwebs were soon dusted off and races 2 – 8 were close affairs.
Thanking the title sponsor Western Yacht & Small Craft Services, Rear Commodore Larry Quinn paid tribute to the many volunteers including the mark layers led by Principal Mark Layer (And Commodore of Foynes YC) John Paul Buckley who travelled all the way from Ardagh, J80s bosuns Brian McDowell and Paul Newport, support boat skipper David Jones and umpires Cxema Pico and Emmet Dalton.
The advice and assistance of the IUSA committee (David Carberry, Johnny Durcan, Niamh Doran and Robbie Dix) ensured Howth provided what the competitors wanted from the championship.
HYC's J80 fleet, the purchase of which was aided by a Sports Capital Grant in 2017, continues to provide an ideal platform for quality racing and training. Maintaining and equalising five boats to this standard is only possible through the volunteer efforts of Kieran Jameson and colleagues, including Gerry and David Sargent.
Report by Emmet Dalton
Registered in the Republic of Ireland. Registered No. 81187