Susan Maher's 'Nautical Story' from China
30 July 2014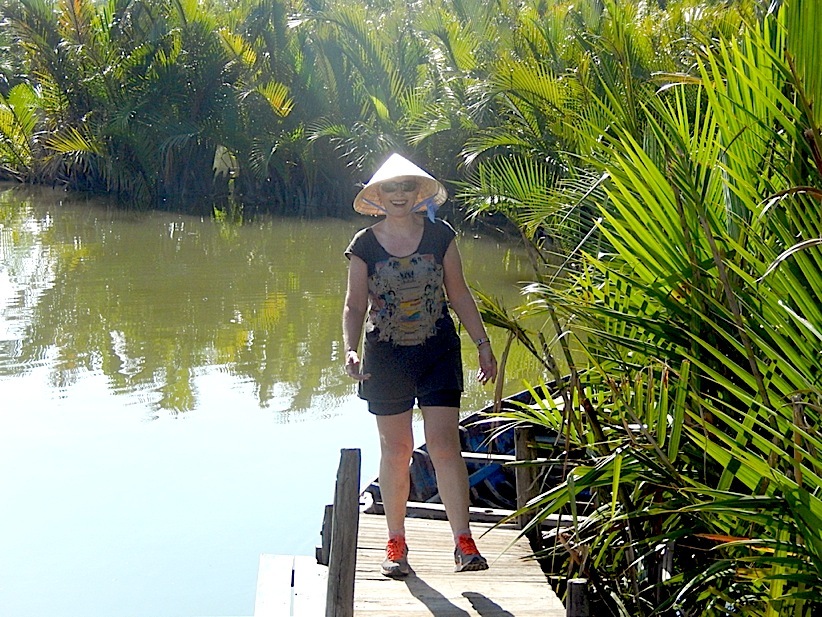 Crab fishing in China.
This seafarer is temporarily residing in the landlocked heartland of China. The experience presents many interesting events, incidents and a way of life worthy of many a story, none of them about the sea. However I did manage to squeeze in some seaside time and though this story might be of interest to the members.
Having some vacation time I decided that my craving to see and smell the briny would have to be addressed. The Chinese do not like the sun, and go to extreme lengths to avoid having any of its rays touch their person. This did not encourage me to head to a Chinese resort to join the millions of Chinese, sheltering under large umbrellas and wearing total cover swimsuits, including the latest face covers when they take a dip. Instead I headed for Costa Vietnam.
I booked a small hotel in Hoi An for twelve days. This made me a long stay visitor as most travellers do a tour and only stay about four days in any location. My main focus was to see the ocean and I was not disappointed. The sea which I had seen from the air was clear and blue with a coast that stretched for miles, with just enough islands offshore to make it interesting. The beaches are beautiful and unlike many resorts, they are quiet, some practically empty. My plan was to do a little cycling, some running and to swim every day.
Over the course of my stay I got to know the staff at the hotel. The hotel I booked prides itself on the level of service to guests, so communication with staff was greater than you might find elsewhere. As a lone traveller, staying twelve days I was also a novelty. One day, the head receptionist, Than, asked if I would like to take a cycling tour with her on her day off, tomorrow, to visit some interesting places nearby the hotel. We could go on the free hotel bikes provided for the use of guests. This was an offer I could not refuse.
At 7am the following day, I met Than at the bike garage and we headed off on our local high Nellies, wearing Vietnamese hats to protect against the sun. Our journey was to be about 20k in total. Travelling with someone who knows the routes is always great and within two minutes of leaving the we were on quiet lanes through the many small farms. There were fields or corn, rice and many vegetables and herbs, most for local consumption.
Our plan was to go to see the coconuts , visit a local organic vegetable farm and cross a beautiful road to have some lunch. Coconuts had been in season everywhere in China so I was really interested to see them growing. I wasn't expecting this lush mangrove swamp that met me. The coconuts themselves were long harvested, but the plants with their waxy emerald green leaves emanating from the murky water were an exotic sight. The meandering channels through the plants reminded me of various Bond movies and my imagination could see boat chases, gunfire and carnage.
Thankfully there was just a serene calm, with lots of photo opportunities after which Than suggested we needed to stop for refreshment. Taking a right turn towards the sea we entered an estuary, where some large fishing boats were moored,stopping at a place where there was a small awning made from the coconut plants(The groves are cut back every year and the cuttings used as roofing in the locality). The owner squeezed some fresh sugar cane which we sipped while admiring the view. Floating in front of us was a small round basket that I took little notice of until Than explained it was a boat used by the locals to fish for crabs.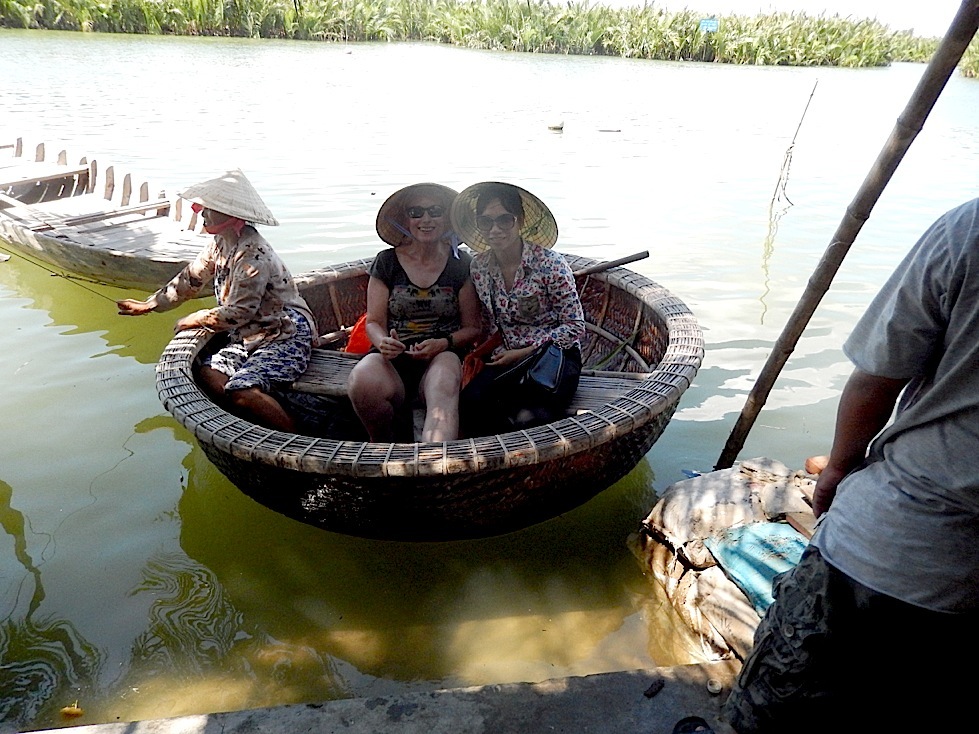 Re-examining the basket as a boat I was immediately reminded of Edward Lear's poem, "The Jumblies" who went to sea in a sieve. This boat was a circular basket made of bamboo with one seat across the middle. Of course here might be an opportunity to get out on the water - and experience this bizarre craft for myself. If anything goes wrong I can swim! Than negotiated a price with the owner and off we went into the wild blue yonder. Thankfully the owner, a women in her fifties came as skipper.
The boat had two paddles and as I was on one side I tried to paddle with the skipper but soon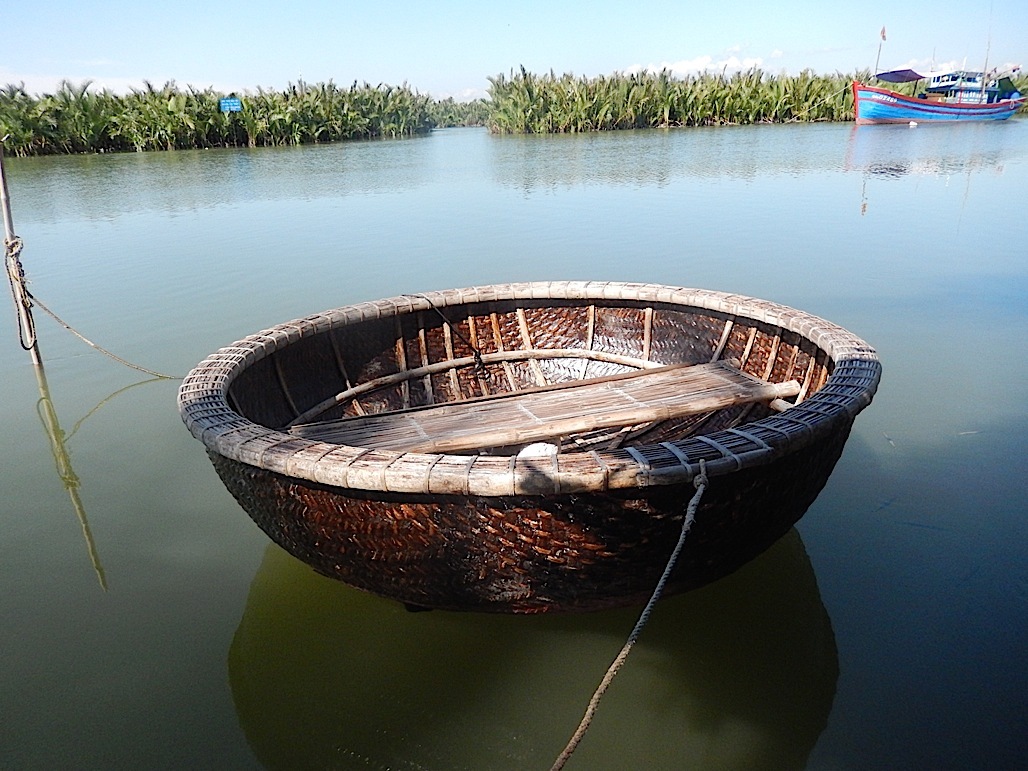 gave up as it was evident I was only a hindrance. It was amazing to see her paddle this round tub in straight line, and though not quite at a James Bond speed we were not bobbing about like the Jumblies, but moving quite nicely. She stopped to show us some of the tiny crabs and baited a "rod" (tiny stick with line and some fish pieces) and we started to fish.
These crabs are some sort of tiny tree climbing crab and live on the Coconut plants. We dangled the bait over an accessible victim (that is one we could see and reach) to try and entice it to take our fish. This was not as easy as it sounds as these guys, while determined to get the fish had very strong survival skills and strong back legs for holding on the their tree. Quick as a flash they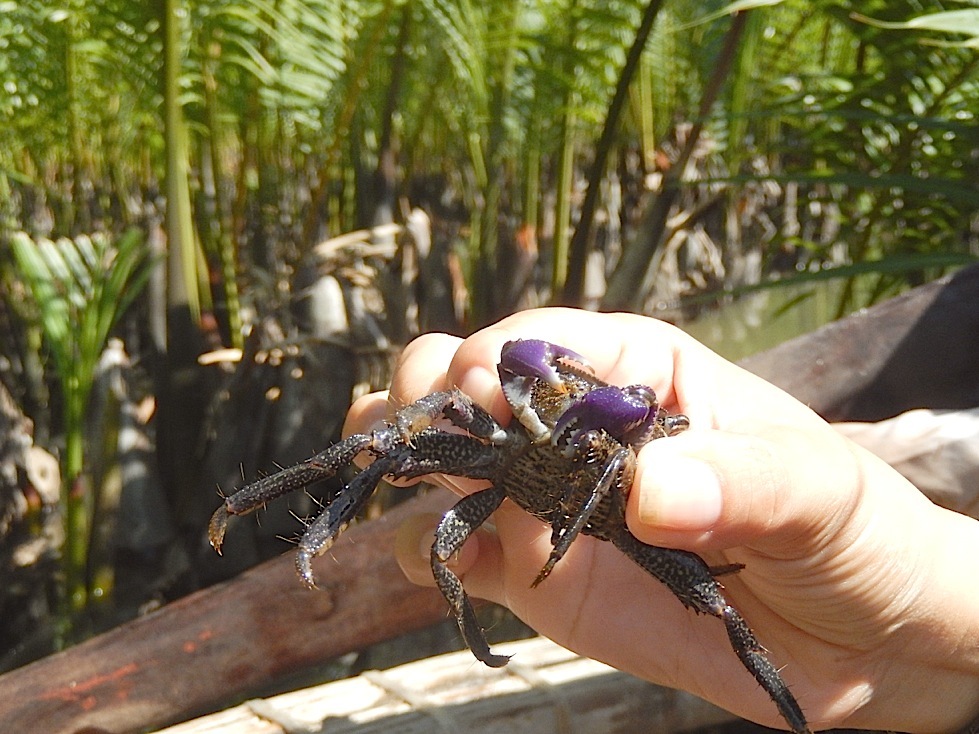 would dive under the water or around the other side of a stem tangling your line in the process while giving time for a good chew at the bait. We caught some, none the less . Perfect tiny crabs with huge purple claws. The locals cook them in a fish stew.
Back on terra firma we headed back towards town across a beautiful area with shrimp farming to a traditional show piece vegetable farm which grown organic produce for local hotels and restaurants. After picking up Than's daughter from school we had lunch - Mary Rose dumplings - in the local restaurant of the Tran Family who make this delicacy for all the local restaurants.
Susan Maher
Registered in the Republic of Ireland. Registered No. 81187