29 Squibs at Freshwater Championships
20 October 2021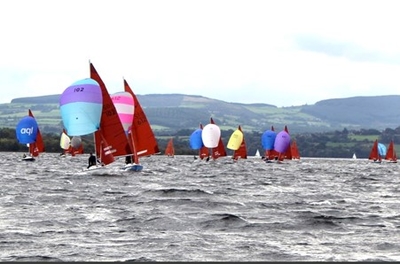 Lough Derg Yacht Club hosted the popular Freshwater Championships last weekend, welcoming fleets of Squibs, Flying 15s, SB20 and Dragons. The Squib entry topped out at 29 boats making it our biggest regional turnout of the season.
Conditions on Saturday morning were benign as we lined up for race 1 with pressure coming down the lake so fortune favoured those on the right. This was good news for Fantome (O'Kelly/Mac Donell, HYC) who tacked right to clear some dodgy air being provided by Kerfuffle (Dalton/Merry, HYC). Conditions remained tricky, particularly downwind, with a nasty break on the finish line costing Fantome a couple of spots to open with an 8th. Kerfuffle, after earlier misfortune, used the race to get into her stride. The breeze ramped up and settled as we moved towards R2. What was clear early doors was that a lot of boats were on pace and had come to dance.
Races 1 and 2 were won by normal podium toppers RNIYC's Gordy Patterson & Ross Nolan sailing Quickstep III and Kinsale's Ian Travers & 'the bronzed bomber' Keith O'Riordan sailing Outlaw. Change was needed and delivered in race 3. A particularly cagey affair was resolved on the second upwind with Fantome rounding clear and holding from there to go with the 5th in Race 2. Evidently someone on board was making Gus look good!! Kerfuffle responded with a pair of 8ths to consolidate and be primed to strike on Sunday when the discard came into play. Overnight Fantome was on the podium for the first time in a while.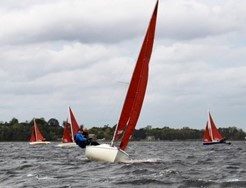 Pictured above is Fantome (O'Kelly/Mac Donell, HYC)
Conditions on Sunday matched the previous day but with the fleet moved north of the nearby Corrikeen Islands. The regatta was going to be high scoring as most teams had a biggish number on the scorecard after day 1. Race 4 provided the 4th different race winners of the weekend, RNIYC's Wallace & Weatherstone. The table toppers posted big scores that they would eventually discard and, suddenly, the championship was wide open. Race 5 started in very light airs on a tight starting line and a moment of brain fog cost some boats dearly including Fantome. We were provided our 5th different race winner of the weekend with the aptly named Firecracker, Killyleagh's Bridges and Bolton taking it. At this point on Sunday Dick Batt and Pam Shanahan had led both races but cracked under Irish pressure. However, they were nonetheless climbing the leader board quietly and assuredly. Going into race 6 any one of 9 boats could still win the event. The race got started under flag U which prematurely ended a scorching day for Firecracker. Also paying a heavy price was Slipstream, Killyleagh's 'medium sized' Rob Marshall and Neil Logan who only needed a top4 to go home with the trophy. After the start there was a big shift right. First to notice it, or so they will have you believe, was team Outlaw. It was a packed weather mark with 10 boats fanned out downwind all thinking they were in it. Upwind the second time the boys on Outlaw worked their magic but not without serious heat from Kerfuffle and the O'Sullivan team from Kinsale sailing Mucky Duck. That was the podium for race 6. Fantome exited the event meekly with a hard-fought 10th.
Overall Patterson/Nolan took the event with a net 21 points, 1 point clear of Travers/O'Riordan who were 1 point clear of Delany/O'Byrne who completed the podium.
Howth came away with a 6th for Fantome and Kerfuffle in 11th, with Emmet acknowledging he had a lot to learn about lake sailing!
In other news, on the SB20 front HYC saw success for Malone/Sheridan +1 more who came away 2nd overall with several bullets during the event. One heavy tack coming up the last upwind cost them 2 spots on the line and the overall trophy. That will sting for a while no doubt.
It was great to see lots of young local crews on the water in Dromineer. Our thanks to LDYC for hosting a great event to close out the season. Kerfuffle and Fantome have already booked in for 2022.
Report by Ronan Mac Donell, HYC Squib Class Captain
Registered in the Republic of Ireland. Registered No. 81187