Howth Yacht Club Gets Ferrari Fix For Fifth Weekend Of Beshoff Motors Autumn League
13 October 2021
Winkie Nixon's wonderful article in Afloat Magazine covering Week 5 of the Beshoff Motors Autumn League 'In 1905, mutineer Ivan Beshoff made good his escape from the Imperial Russian Battleship Potemkin after he and his shipmates had taken over command in the Black Sea, and he set out walking west. Knowing of the long reach of the Tzarist secret police, he went as far as he could go in Europe, and ended up in Ireland, where the Beshoff family is now well established.
It's rather more than can be said for the Tzars back in Russia. But meanwhile, two years after Ivan Beshoff's long walk to freedom, Clem Courtney of Howth bought one of the locally-based Howth 17 One-Designs - back in 1907, they'd been in existence for only nine years. The Courtney family has been involved with the Howth 17s - and offshore racers too – ever since, and in Saturday's two races of the fifth weekend of Beshoff Motor Autumn League, Peter Courtney racing Oona kept himself in the top four overall of the 14-strong Seventeen fleet.
So when he got ashore it was only right and proper that he should be invited to sit into the hottest car that Jeremy Beshoff and his classic specialists in Beshoff Motors had brought along for the day, and it was of course a Ferrari (See cover shot). Indeed, it was notable just how many sailors found themselves feeling completely at home in that Ferrari driving seat. But they'd certainly earned the privilege, for although the day's westerly breeze was fading as the big high pressure system built from the southwest, the Race Officer teams were determined to get in two races where possible in this penultimate weekend. They've now got seven good results for most classes in the bag, and the final day this coming Saturday will be almost a bonus.
But while the Courtney link with the Seventeens may be the longest of all the Howth sailing families, it was another well-established local maritime clan which made it their day in the old class, as Ian Malcolm with Aura recorded a first and second. This makes it close at the top overall for the leading four, as Deilginis (Massey/Toomey/Kenny) is now on 16 pts, Isobel (Brian & Conor Turvey) is at 17, Aura is at 19 and Oona is at 20.
In fact, after 123 years, the Seventeens are still providing some of the closest racing as indicated by the points, for in IRC1 Nigel Biggs' Classic Half Tonner Checkmate XVIII has been making hay, and after a 5th and 1st on Saturday, she's on only 12 pts to the 20 of the J/99 Snapshot (Mike & Richie Evans) which is just ahead of the J/109 Outrajeous (Richard Colwell & Johnny Murphy) on 21.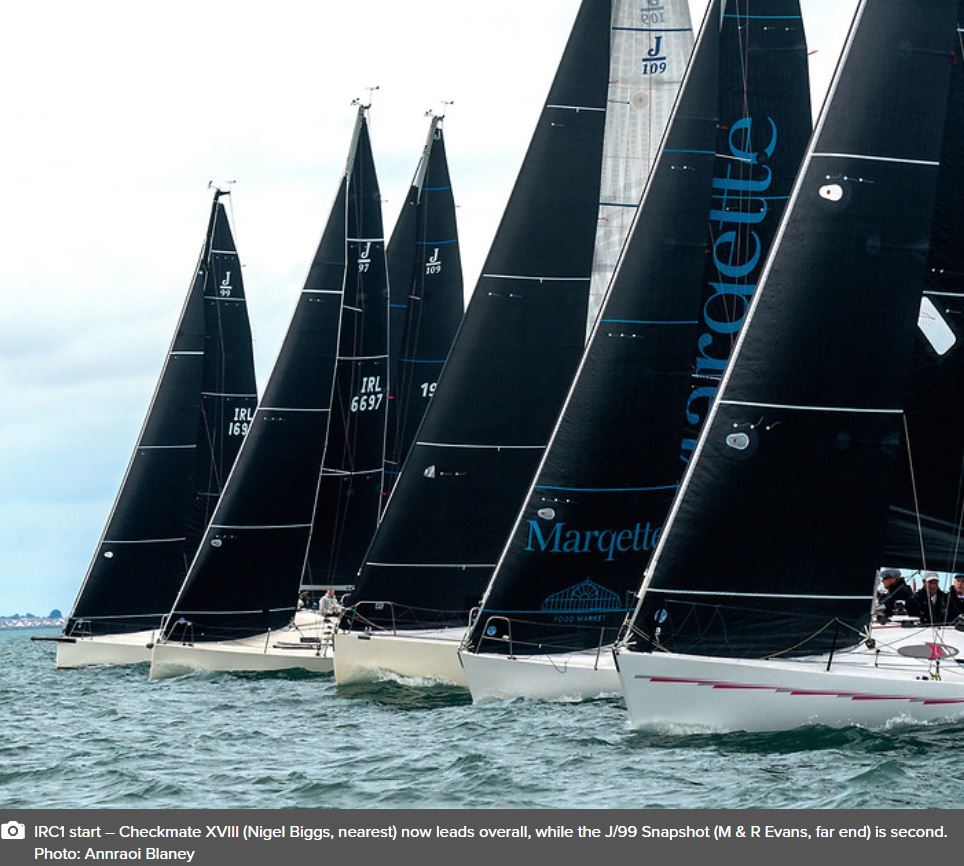 IRC 2 continues to see the Gore-Grimes family make the pace convincingly with Dux, while in IRC 3 the Mullaneys with the Irish Champion Sigma 33 Insider notched a useful 1st and 2nd to give them a massive overall lead over Vincent Gaffney's Laser 28 Alliance 2.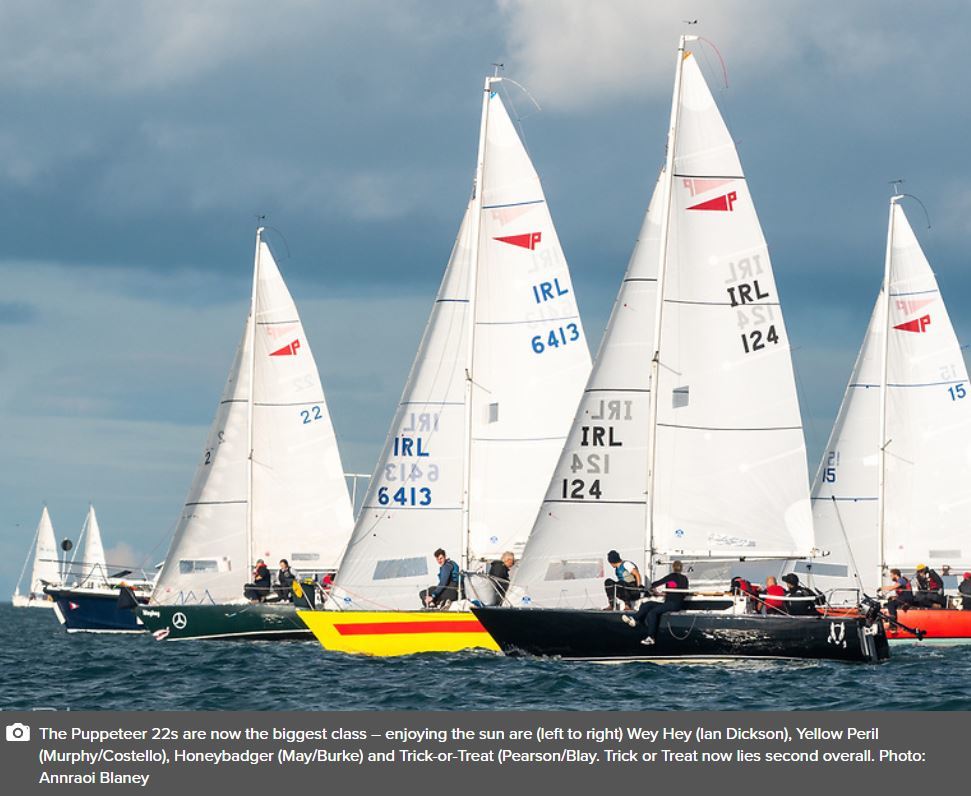 The biggest class of all – the Puppeteer 22s with 17 boats now on the water as more contenders emerge from the sheds on the family farms – still has Scorie Walls with Gold Dust leading overall on 15 pts, but she was off form as Gold Dust recorded an 8th and 4th on Saturday while the McMahons with Shiggi-Shiggi took two bullets to make it a very tight final contest for the top five places.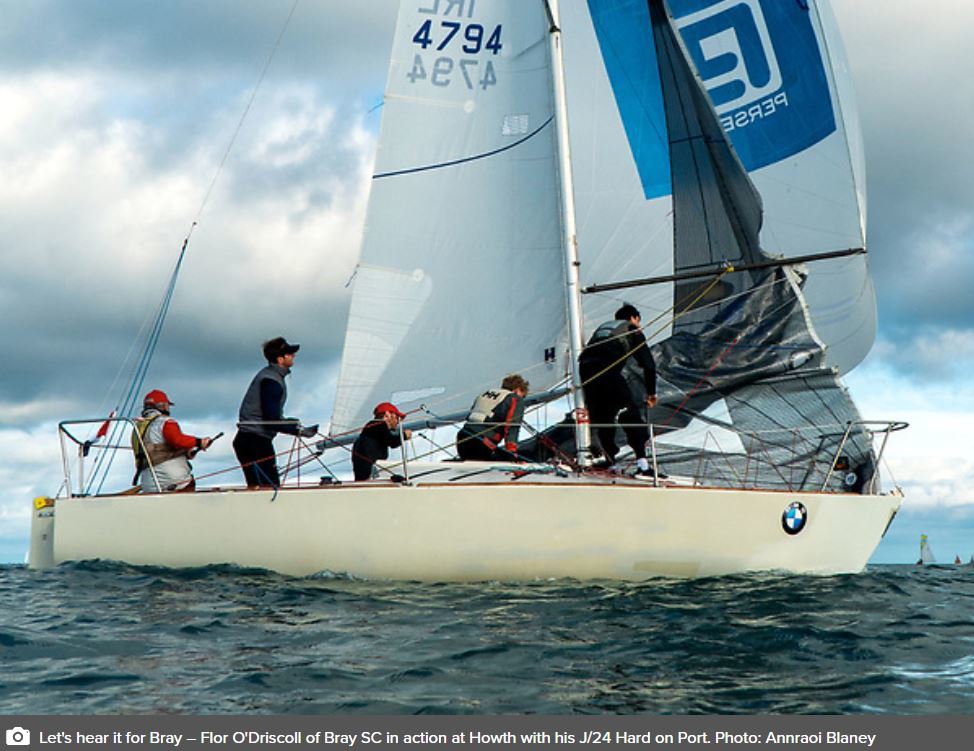 As we get further into October, predicting this coming final Saturday's wind and weather is an increasing challenge, but with those seven races now in the can, it is already an excellent series. Next year, it will be the 40th Anniversary Howth Autumn League. Meanwhile, for those who had mixed fortunes on Saturday, getting up close and personal with a Ferrari proved to be just the tonic.'
Thank you to Winkie Nixon, Afloat for publishing this article and allowing us to share it.
Thank you also to Annraoi Blaney for his excellent photography again this week.
Registered in the Republic of Ireland. Registered No. 81187