Dalton and Merry put local boat to the fore at Squib Easterns
06 September 2021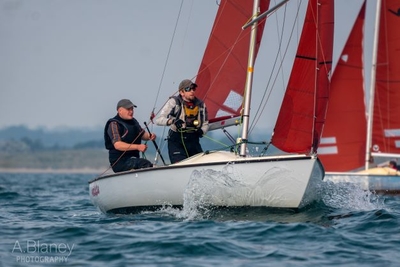 Howth Yacht Club hosted the Squib Eastern Championships over the weekend, with a solid eighteen boat entry from the North, South and Capital.
Saturday's four races were claimed by local boat "Kerfuffle" (Dalton, Merry) x 2, "Toy for the Boys" (Wallace , Weatherstone - RNIYC) and "Outlaw" (Travers, O'Riordan - Kinsale YC). Principal Race Officer, Derek Bothwell, tolerating none of the usual Squib messing on the start line, wasn't afraid to whip out the U and Black Flags. Order was restored but not without a clatter of boats being on the wrong end of Derek's eagle eyes and having to sit out a race or two. That left "Kerfuffle" leading "Outlaw" overnight with another HYC boat "Durt" (O'Kelly, Cotter-the-Younger) in fourth.
The heavy weather specialists might have been hoping for Sunday's long range forecast to materialise but it didn't play ball. The conditions were more of what the previous day brought with a comfortable 10-12 kts across the course. Slipping off the starting line like a greased piglet, "Kerfuffle" took the 5th race and the Championship, leaving it still open for the silver and bronze medals. "Outlaw" didn't live up to her name and sailed a very clean and uncontroversial series to handily take second. "Firecracker" (Bridges, Bolton - Killyleagh YC) was able to discard its U-Flag penalty from Saturday and was able to just sneak into third, with only seven points separating 3rd to 7th places.
Silver Fleet spoils were taken by "Crackertoo" (Kay & Kay Bros. - HYC), "Mucky Duck" (Ní Shuilleabháin, O'Sullivan - Kinsale YC) and "Volante" (Watson, Withers - Killyleagh YC)
Next venue on the Squib World Tour 2021 is the Inland Championship at Lough Derg YC in October. Thermal onesies are being readied!
The HYC fleet closed out its last club racing series on Tuesday last with nine boats on the start line. Strong Class leadership and drive by Ronan MacDonell has the fleet in growth mode, with three new boats coming for 2022.
Cover Photo Annraoi Blaney
Registered in the Republic of Ireland. Registered No. 81187