HYC team travel to compete in the Rolex New York Yacht Club Invitational Cup
01 September 2021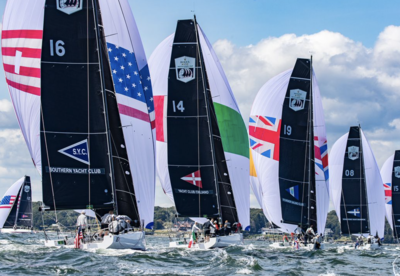 Earlier this year Howth Yacht Club was proud to receive, and quick to accept, an invitation from New York Yacht Club to compete in the Rolex NYYC Invitational Cup in Newport this September.
The Rolex New York Yacht Club Invitational Cup is a biennial regatta hosted by the New York Yacht Club, Harbour Court in Newport, R.I. Since the event was first run in 2009, it has attracted top amateur sailors from 43 of the world's most prestigious yacht clubs from 21 countries around the world. The 2021 event will be sailed in twenty IC37s - all owned by the host club and a boat designed by Wicklow yacht designer Mark Mills.
Howth's entry adds a second Irish boat to what is always a formidable entry list and they will join Royal Cork Yacht Club in this prestigious international championship. Led by a team put together by Anthony O'Leary, RCYC have already represented Ireland on all 6 previous occasions of this event, finishing 3rd in 2019 and their experience will make them one of the favourites this time.
Howth's team have a realistic perspective and are under no illusions about the challenge that they face. "We are stepping into an event where most teams have lots of experience with these boats and understand the venue and the competition" explained Howth's Half-Tonner helmsman Darren Wright who put this campaign together as soon as the invitation from NYYC came through. "We all understand the level of competition that we'll encounter and our target will be to ensure that we do our club proud, anything more would be a bonus this time".
The IC37 is described as 'an innovative amateur one-design class designed to race with a crew of family and friends - men and women - young and not so young - sailors who race for the love and joy of the sport.' Notwithstanding that intent, the Rolex NYYC Invitational attracts the highest level of competition from around the world, including Olympian medallists, world champions and 'Corinthians' in the extreme. The host team, led by Phil Lotz (NYYC Commodore, 2017 and 2018) won the inaugural competition, defeating 16 other clubs. The Royal Canadian Yacht Club (Toronto, Canada), led by Olympic silver medalist Terry McLaughlin, won in 2011 and 2013, followed by the Royal Thames Yacht Club (London, England) in 2015 and Southern Yacht Club from New Orleans, La., in 2017. In 2019, world champion sailor Guido Belgiorno-Nettis and his crew from Australia's Royal Sydney Yacht Squadron became the first team from the Southern Hemisphere to win the Rolex New York Yacht Club Invitational Cup.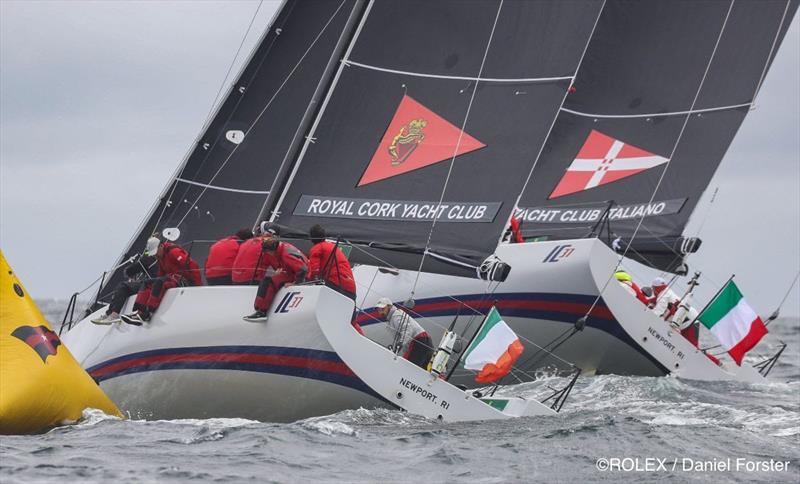 The two Irish clubs will be racing against teams from the following sailing clubs from all around the world :
New York Yacht Club (USA)
Eastern Yacht Club (USA)
Ichenor Sailing Club (UK)
San Francisco Yacht Club (USA)
Noroton Yacht Club (USA)
Nyländska Jaktklubben (Finland)
Royal Bermuda Yacht Club (Bermuda)
Yacht Club Argentino (Argentina)
American Yacht Club (USA)
Royal Canadian Yacht Club (Canada)
Royal Swedish Yacht Club (Sweden)
Yacht Club Costa Smeralda (Italy)
Royal Thames Yacht Club (UK)
Royal Vancouver Yacht Club (Canada)
San Diego Yacht Club (USA)
Southern Yacht Club (USA)
Yacht Club Italiano (Italy)
HYC's crew are made up of a core team that have spent the past 15 years racing together in a selection of the most famous 'Blue Riband' sailing events, including Fastnets, Middle Sea Race, Caribbean 600, ARC and the Sydney Hobart in 2019. The full squad comprises of Darren Wright, Rick deNeve, Sam O'Byrne, Michael Wright, Laura Dillon, Brian Turvey, Luke Malcolm and Karena Knaggs. However their secret weapon might be performance dinghy racer Rocco Wright who will be their '9th crew-member' and a valuable extra man, conveniently aligning with the New York Yacht Club and the IC37's ethos of inclusion as mentioned above.
The sporting news might have an additional 'twist' during the event because a final decision on the 37th America's Cup venue is expected on September 17 and Cork's bid to host the event was recently bolstered by the promise of financial support by the Irish Government.(
See here
) Notwithstanding the wish of the majority of New Zealanders that the event be held in their own country - it still seems like a surreal scenario for the Cork Harbour bidders, but NYYC could witness quite a party at their club in Rhode Island should Ireland be appointed as hosts for the next America's Cup.
The Howth team travel to Newport on Tuesday 7th September and will take their boat for 5 full practice days before racing commences on Tuesday 14th. The series is scheduled to finish on Saturday 18th and each day's racing will be broadcasted live on NYYC's YouTube and Facebook channels.
Registered in the Republic of Ireland. Registered No. 81187