HYC Crews Top the J24 Nationals' Podium
11 August 2021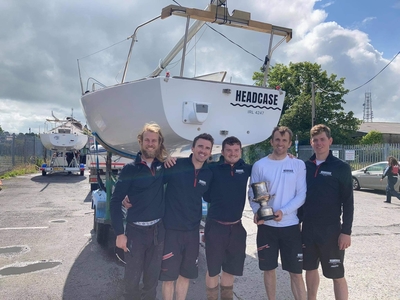 The 2021 J24 Nationals were competed for at Sligo YC on Aug 6 – 8th. The weekend's high winds and Atlantic swell limited racing to just 4 races on Friday. The overall title went to Headcase while Kilcullen took both the Under 25 Championship and Silver Fleet victory. HYC's Derek Bothwell was Race Officer.
High winds on Saturday and Sunday, accompanied by a large Atlantic swell, meant that the 2021 J24 National Championship title was settled over a single day of racing on Sligo Bay. 24 boats battled it out over four races in Friday's moderate conditions that saw the overall title decisively won by the crew of Headcase while the Under 25 title went to Kilcullen of Howth Yacht Club.
The event incorporated the 200th anniversary of Sligo YC's historic Ladies Cup. The trophy was originally presented by the ladies of Sligo in 1821 for 'the encouragement of fast sailing boats'. It has been raced for ever since on both Lough Gill and at Rosses Point, making it the oldest trophy in World sailing that is regularly competed for. The crew of Headcase were HYC's Sam O'Byrne and Cillian Dickson (also Lough Ree YC) as well as Louis Molloy (Mayo SC), Marcus Ryan (Mayo SC) and Ryan Glynn (Ballyholme YC). Given the multi-club basis of the Headcase crew, they have based the boat in Lough Ree recently to facilitate them training. Their next major target in the Class is the J24 Europeans, which will be raced for from Howth YC in Aug 2022. Headcase will again take up residence at HYC for the 2022 season while the crew train and build up to that event.
Although the results sheet shows Headcase taking all the first places and enjoying an 11 point winning margin, the scoreline hides how close the racing was. With only four races sailed, a discard was not available and anyone with a poor result had to count it in their overall score, making consistency and a decent score in every race critical. Headcase's four bullets were as good as it gets for consistency while Class stalwart and multiple national champion JP McCaldin, sailing the 2017 World Championship winning boat Il Riccio, earned second place overall with three top three results and a seventh in the last race. Local boat Jana, with three 4th places and a 7th, took third place.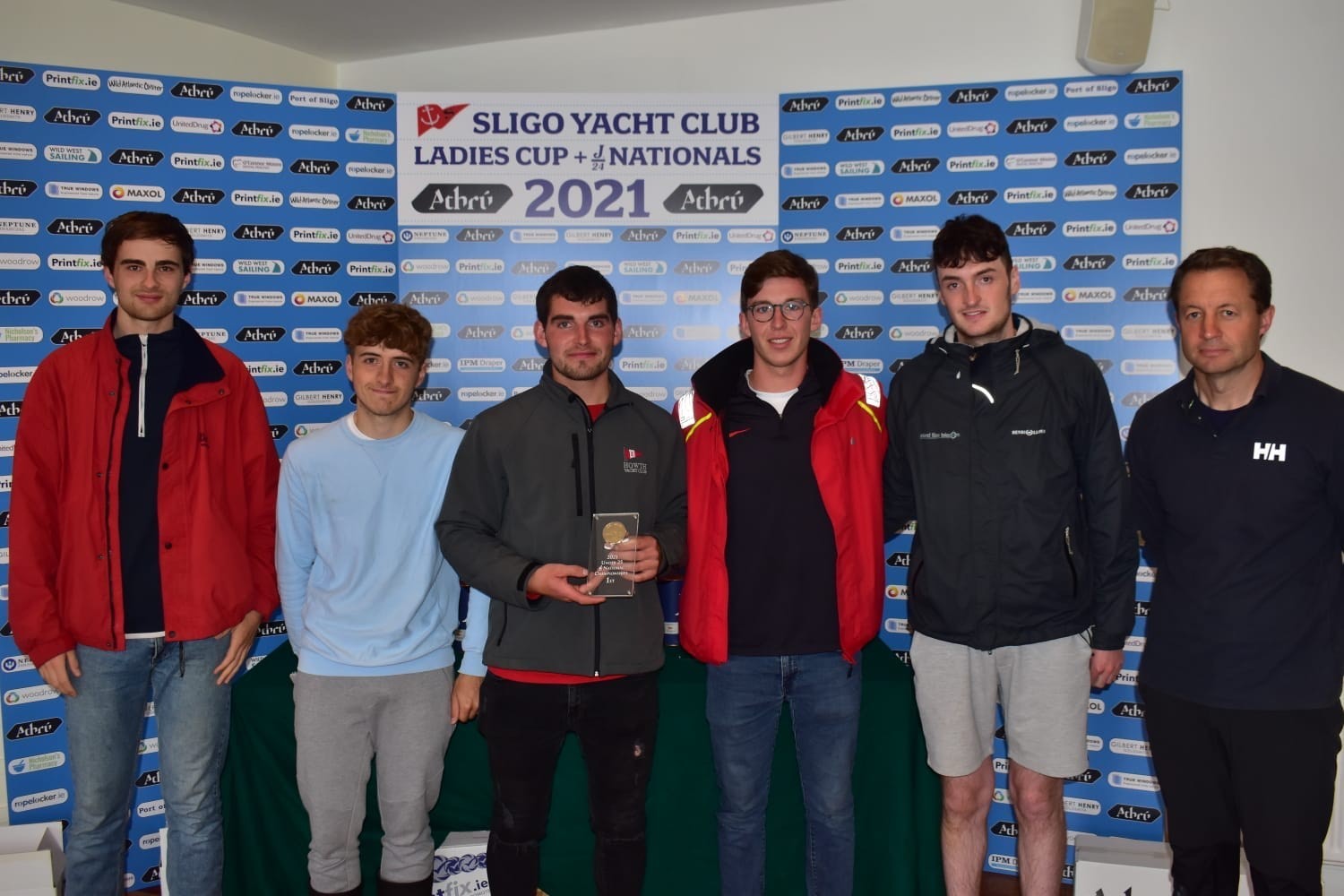 Photo left to right Philip McDowell, William Lacey, David Johnston, Sam Crawford and Jack McMahon
A navigation error late in the opening race denied Tadgh O'Loinsigh and the crew of Janx Spirit (Tralee Bay SC) their first race win in a J24 Nationals, which would have been an appropriate reward for a young crew who have been training hard and quickly climbing the improvement curve since taking the inaugural U25 National title in 2019. Stouche (Foynes YC) included scores of 6, 3, 2 but their U Flag infringement in race 4 earned them a UFD score that moved them down to eight overall in the shortened series.
The current HYC Under 25 team on Kilcullen won the under 25 National title, which was sponsored by Ropelocker. Their victory was hard earned and only by a single point from the Foynes YC team on Jasper. The brand new under 25 team from Greystones were a further 2 points back, a very creditable result for their first J24 regatta. In addition to their Under 25 win, Kilcullen also took first place in the Silver fleet.
The event was notable for the number of U25 teams competing - 7 entered although boat transport problems resulted in there being 6 on the starting line. This is an amazing turnout and confirmation that Clubs taking the decision to support their young members in going keelboat racing will find them more than ready to take up the challenge. Interestingly, the Headcase crew is formed from the first Howth YC Under 25 team, which originated the concept back in 2015.
The Nationals were held against the backdrop of the untimely death of Gerry Brady, a passionate J24 sailor who raced Luder Too. It is a great testament to his family, Sligo YC and the J24 Class that his boat raced the regatta in the capable hands of an under 25 team.
The J24 Easterns will be raced from Howth YC on Aug 28 / 29th and both Headcase and Kilcullen are now confirmed targets for the fleet.
Cover photo left to right Louis Mulloy, Sam O'Byrne, Ryan Glynn, Marcus Ryan and Cillian Dickon
Registered in the Republic of Ireland. Registered No. 81187