HYC Marina Welcomes the 1926 Baltimore Built Ilen
19 July 2021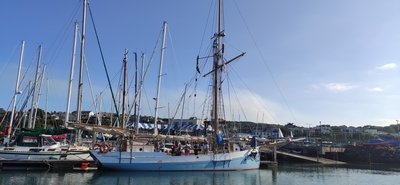 The Ilen visited our Marina for the first time this week. She was built in Baltimore in 1926, designed by Conor O'Brien (relation of Charlotte Delamer nee O'Brien) and then sailed to the Falklands where she worked as an inter-island trading ketch for the next seventy years, amazingly surviving the seas in the Southern Ocean. Following this she was brought back to Baltimore and rebuilt from her 16 tonne lead keel up. She is 83ft long from bowsprit (30tf) to bumpkin and weighs 60 tonnes. Drawing 2.2 metres meant that she was constrained at low tide. This was a fabulous restoration job and all credit to those involved. Down below her former hold has been converted into living quarters with an oil fired range and bunks forward - all finished in glorious wood. Behind this lies the Gardner 6 cylinder engine and further aft a separate navigation and control room
She made daily trips from our Marina in association with the Sailing into Wellness scheme which HYC supports.
Colin and Conall, her skipper, were kind enough to invite us for a sail on Wednesday and Thursday evenings which some members availed of including myself. Unfortunately there was little wind (max 6-8 knots) when I sailed on her last Wednesday and though jib, main and mizzen sails were used the maximum speed I saw on a broad reach was 3.5 knots. When tacking the mizzen sail was used to assist her through the wind. With hydraulic steering there is no helm feel of course and a close eye needs to be kept on the rudder indicator as at low speeds she is slow to respond, as you might expect. I was surprised the affect that sail balance had on the rudder and of course sailors from the Howth 17 fleet will recognise these sailing characteristics. Needless to say raising the sails are all block and tackle work. The freeboard is surprisingly low and it would be interesting to see how she would handle in a fresh breeze or above..
We hope to see her from time to time in Howth in the future.
Paddy
Registered in the Republic of Ireland. Registered No. 81187