Dinghy Sailors of All Ages Enjoy Great Summer Evening Racing
19 July 2021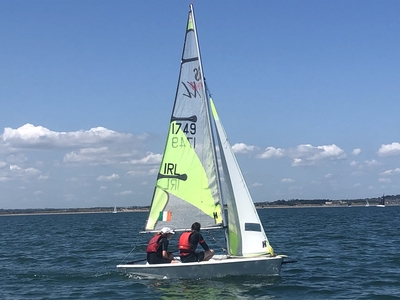 Thursday evening dinghy racing in HYC ended the last race of the first Series with a beautiful evening for a sail, light airs causing PRO, Scorie Walls (with Rupert Jeffares and Eric Philips) some frustrations until finally Scorie declared "If there's wind… you're going"… and we did!
First race was one lap, bit more breeze and tide down the middle of the sound. Brian Mc Dowell in a 470 led to the first mark, followed by Colin Kavanagh in the Lasers and the smaller crews in the 4.7's, Radials, Topaz and Feva staying close to the pack and even catching up on the downwind. On the water, the race was won by Brian, followed by John Phelan and then Simon Revill. On PY, Willemien Phelan won in the Topaz.
Race two, was much the same with the smaller crews doing really well, staying in touch and even ahead at the first mark. Phelan thought he had won, then kindly told by Simon that there was two rounds… 470 won, followed by Simon Revill, John Phelan and Colin Kavanagh in the Laser standards with the main pack of 4.7's and Topaz etc very close with Luke Turvey and Abby Kinsella doing well on the PY system.
Why not dust off your laser or any dinghy you can get your hands on and join in the next series starting on 22nd July for another 4 weeks. It is great fun and all ages and levels are welcome.
For more information on how you can join in contact
Daragh Sheridan email or phone + 353 (0) 86 3818796
Registered in the Republic of Ireland. Registered No. 81187