HYC Sailors in Training for AQUA Double Handed Race
12 July 2021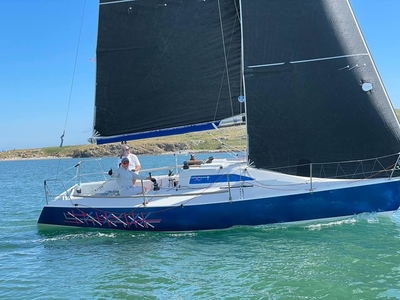 HYC Members have been seen out practicing for the annual double handed Aqua challenge. The race is scheduled for next Saturday July 17th and is once again supported by Howth's Aqua Restaurant.
The premise of the race is simple, two people aboard, no restrictions on sails used (apart from in the White Sails Class) and a course planned to take around 3 hours for the first to finish. Separate starts will be allocated to White Sails, Cruisers, J80s and Puppeteers and a first gun at 10.00 hours.
The event is an open event and so we hope to see entries from our neigbouring clubs in Dublin Bay and Malahide join in. Starting at 10am and with finishing from lunchtime onwards, the intention is to have all courses round Lambay Island and use HYC Club marks and possibly other marks depending on conditions.
So don't delay and get your entry in now, cost is just €20. Online entry, Notice of Race and sailing instructions are posted here
(Top photo features Dave Cullen and his long-time sailing buddy Aidan Beggan out practising last weekend.)
Registered in the Republic of Ireland. Registered No. 81187