Youth Over Experience Victorious in This Week's Dinghy Racing
25 June 2021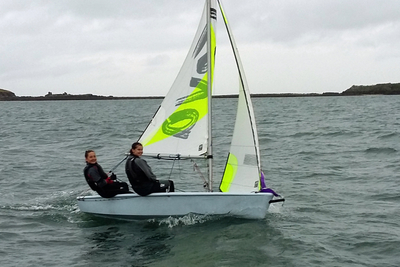 Day 3 of the Thursday Dinghy Series turned out to be a victory for youth over experience. With a number of sailors away a smaller fleet of two full rig lasers, a 4.7 and feva headed out into what seemed relatively benign conditions. Colin and Ronan in the full rigs hit the course early for a warmup while Luke, Aoibhin and Mabel saved their energy for the race itself.
With winds in the 20 to 22 knot range the more "experienced" sailors boat handling (and nerve) came under a certain amount of pressure. Luke Turvey gybing around effortlessly before the start did nothing to improve the situation.
As the gun went for the Olympic course one of the full rigs was in some difficulty - causing two of the younger committee boat assistants, Chloe MacDonnell and Saoirse, in particular some concern. The other full rig led off the start line, with the 4.7 and feva holding back, either out of respect for their elders or, more likely, fear of injury. The full rig's lead was short lived – as it failed to negotiate the first gybe mark. Luke took the lead while the full rig regathered itself and set off in pursuit, the feva gaining all the time. Luke extended his lead as the full rig again struggled with the downwind boat handling, while Aoibhin and Mabel in the feva made it look easy.
In the end the race went to Luke in the 4.7, with the feva a close second and neither of the full rigs quite managing to complete the course – but learning a lot in the process…
Thanks as always to Race Officer Brendan, Neil, the mark laying/rescue teams and Eimear on results. Full results can be viewed here.
Registered in the Republic of Ireland. Registered No. 81187