Phelan Misses Out on The Podium as His Race Lead Takes a Nose Dive
23 June 2021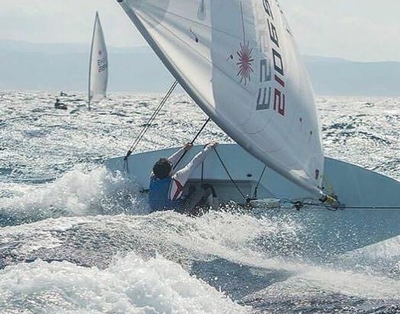 Another terrific evening's Dinghy racing took place on Thursday. At one point it looked like it was not going to happen due to a lack of wind. However, thanks to the skill and patience of the team on the Committee Boat we were able to have two quickfire races.
It was great to see the numbers up from the first week and we hope this trend continues as more people get involved. This evening saw the first Optimists join in with Harry Dunne and Charlie Power taking part. Also joining in for the first time were Aoibhin Farrelly and Lizzy McDowell in an RS Feva and 470 respectively.
There was some close racing in the Lasers with all three rigs featuring at the front of the fleet. Simon Revill took two 2nd places and Colin Kavanagh a 3rd in the Standard rig with Fiachra Farrelly taking a third in Race 1 in the 4.7.
Highlight of the evening (for the rest of the fleet anyway) was watching a delighted John Phelan round the first mark in first place only to then promptly capsize. Much laughter ensued, but not from John's boat.
Thanks to Paddy Judge, Scorie Walls and Simon Knowles on the committee boat and to the girls and guys on the rescue boats. Thanks also to Eimear in the race office for sorting out the issues with the PY results.
Everybody seemed to enjoy the sailing and the post-race banter. Please tell your friends and encourage them to come down and join in. It would be great to see more Oppies and Fevas and I am aware of a Finn that is hoping to join in soon.
Also, could I please ask for volunteers to assist on the Committee Boat. No experience necessary as we have a PRO and Assistant PRO on board, but they need help with timing, registering numbers etc. You can email me or text if you can help on:
Mob: 086 381 8796
Thanks
Daragh
Results (Based on PY Handicap)
Race 1
Daragh Sheridan – RS Aero
Simon Revill – Laser Standard
Fiachra Farrelly – Laser 4.7
Race 2
Daragh Sheridan – RS Aero
Simon Revill – Laser Standard
Colin Kavanagh – Laser Standard
Full Results available at:
https://hyc.ie/results?utf8=%E2%9C%93&year=2021&event_type=club&event_title=Dinghy+Thursdays&result_class_name=PY+Fleet&commit=Get+Result
(Stock Photo)
Registered in the Republic of Ireland. Registered No. 81187