HYC Club Racing Series Resumes 8th & 9th June
12 May 2021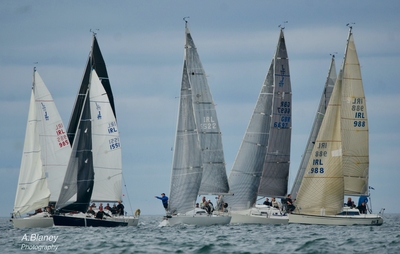 The Government has announced June 7th as the date for competitive sailing to resume and Howth YC has put arrangements in place to get racing underway immediately. The first Tuesday night Club race of the year will be on June 8th, the night after racing is permitted, and the Wednesday fleets will be getting their first gun the night after
Given previous fears that it could be the end of June before racing resumes, the confirmation of June 7th comes as a great relief to the sailors who have been deprived of competition since the curtain was dropped last September when HYC's End of Season Series came to a sudden stop with only the first weekend completed when Dublin had Level 3 restrictions imposed.
As matters stand, the first month of the 2021 Summer season has been lost but there is lots of racing planned before the Autumn League gets underway on Sept 11th. Entries for Club racing will go live on the website this week.
Mid-week racing will revert to Committee Vessel starts for 2021 and Saturday races will start off the Pier. Race management will rely heavily on VHF usage so skippers are advised to ensure that their radio sets are serviceable. As well as the commencement of keel boat racing in the second week of June, HYC will be launching a dinghy racing series running over Thursday nights from June 10th. Racing is planned for Lasers, Optimists and a PY handicap class will allow anyone with a sailing dinghy of any type to get afloat - dig out that boat that won you fame (whether as a sailor or a swimmer) and put those lockdown resolutions into practice.
The Club's racing marks are already laid and the East Pier Hut will be placed in position shortly. In the lead-up to June 7th, training is permitted subject to 'pod' sizes not exceeding 15 and social distancing measures being complied with. Junior coaching is taking place on Saturdays, adult dinghy training will commence on May 10th and keelboat Class Captains are being asked to canvass their members about whether they wish to get afloat to train on Wednesday evenings in the lead up to mid-week racing.
The Lambay Races were scheduled for June 5th and just missed the bus for the permitted recommencement of competition. The event has been rescheduled to June 12th, which fortunately has a suitable tide (HW 13.37) to fast-track boats to and from the Island. With open air consumption of food and drink permitted on the HYC premises from June 7th, subject to restricted table sizes and social distancing, entries for the Lambay Races will be limited to HYC based boats in order to ensure that members have as much space ashore as possible to socialise.
Sailors who cruise have been less constrained than the racers over the last few weeks but the previous limitations on how far from home people could travel, followed by the intercounty travel ban, severely restricted their scope to venture away from HYC. The lifting of the intercounty restrictions from May 10th has increased the horizons for the Cruising group and no doubt the HYC ensign will start to appear at points north and south over the next few weeks.
We are delighted to be able to announce that the AQUA sponsored Double Handed Race will take place on July 17th. This has been a highlight of the Club calendar for a number of years and 2020 saw a big uplift in entries when a short inshore course for one designs and smaller boats was added to the more challenging length used by the 30' plus boats. 2021 will see an enhanced prize list, courtesy of the sponsor, and our thanks go to AQUA for their commitment to the Club and to this event, which their enthusiasm has seen grow from small beginnings to the 38 boat entry that raced in 2020. Details will follow.
Open events planned for early in the season followed the pattern of cancellations that were a feature of 2020. The Student Yachting Nationals and Laser Leinsters were major events written off by COVID in March and May and the delayed commencement of competition means that the Optimist Leinsters have been rescheduled for July 3rd/4th which will make it the first event since 2019 to allow us to welcome a significant number of visiting sailors to compete at HYC. Between its hosting and the start of the Autumn League, we look forward to hosting events for the 1720s, Howth 17s, Puppeteers, J24s, 420s and Squibs while the Fingal Challenge will run throughout the season.
A word of caution about COVID risks has to round off the good news above. It is still with us and 400+ cases per day illustrate the threat it continues to present. Whilst some members have been vaccinated, many are still in the queue and, until further notice, HYC's member protection measures continue to apply. Access to the Club remains restricted to members and their signed-in guests, masks must be worn on the premises and on-line crew registration is required for all organised activity afloat – both racing and cruising.
Neil Murphy, Vice Commodore
Photo Credit: Annroi Blayney
Registered in the Republic of Ireland. Registered No. 81187