Congratulations to Eve McMahon on her Youth Sailor of the Year Award
17 February 2021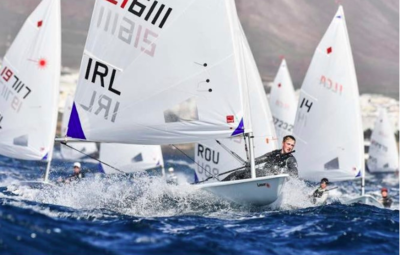 We were delighted and proud as members of Howth Yacht Club to see Eve McMahon awarded 2020 Irish Sailing Youth Sailor of the Year at the recent Irish Sailing Awards. Eve sent a message to all her fellow HYC members to thank them for their support and fill them in on her latest progress.
"Hi everyone, I have recently been awarded Youth Sailor of the Year for the second year in a row and I was hugely proud to represent Howth Yacht Club when receiving the award. I am fortunate enough to be able to train on the water through these odd times and I would like to share a little bit about my current experiences and an insight into my calendar!
Although most of 2020 was ruled out because of Covid 19, I was still able to compete in one major event in October, the Senior Laser Radial Europeans in Poland. This was my first ever Senior Europeans and I was the youngest competitor in the fleet, I qualified for the gold fleet and experienced the standard of racing against the top athletes.
I'm currently training in Lanzarote with the Irish Olympic Senior Radial team and we have teamed up with the Danish Olympic team to train up until Tokyo. Being exposed to 2 Olympic medalists (Annalise Murphy and Anne-Marie Rindom-DEN) while training is an incredible experience for me and a chance that I am hugely grateful for. Being out on the water with the best sailors in the Laser Radial fleet not only gives me the opportunity to pick up on their golden tips and tricks but also to see the effort and precision that goes into the training each day. There have been some small training regattas held here in Lanzarote that allowed me to get in some tactical race situations before competing in the French Olympic week at the end of April.
This Summer will be quite busy for me as I am able to compete in all 3 different age categories (Youth, Under 21 and Senior) which not a lot of sailors can do!! I'll hopefully look to compete in all three different World and European Championships, providing the events can go ahead in a safe manner. One of the major events for me this year is the Youth Olympics (venue to be decided) which were unfortunately cancelled in 2020 but I have aimed a lot of my training focus towards this event now in 2021. The first domestic event looks like it will happen in Howth Yacht Club at the start of May which I'm really looking forward to racing back in my home club and sailing on familiar waters!"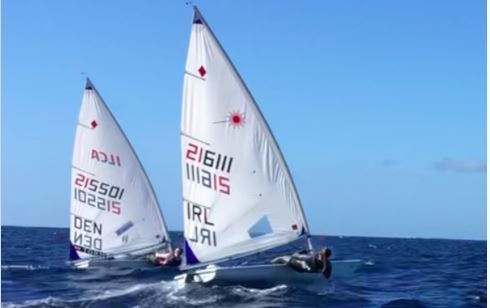 Training in Lazarote recently
Eve Mc Mahon
Registered in the Republic of Ireland. Registered No. 81187