HYC Members on Sailors of the Month listings
14 January 2021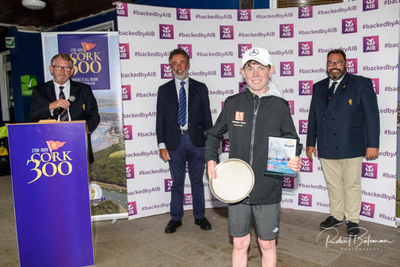 Howth Yacht Club have a comprehensive listing for "Sailor of the Year 2020" and voting is now under way through Afloat.ie to choose the 2020 Irish Sailor of the Year. Three Howth Yacht Club members are featuring in a selection which reflects very well on the club, as they showed how HYC led the way in getting life afloat going again after the COVID-19 restriction period, while two junior awards for top Optimist sailors indicate a bright future for our competitive sailing.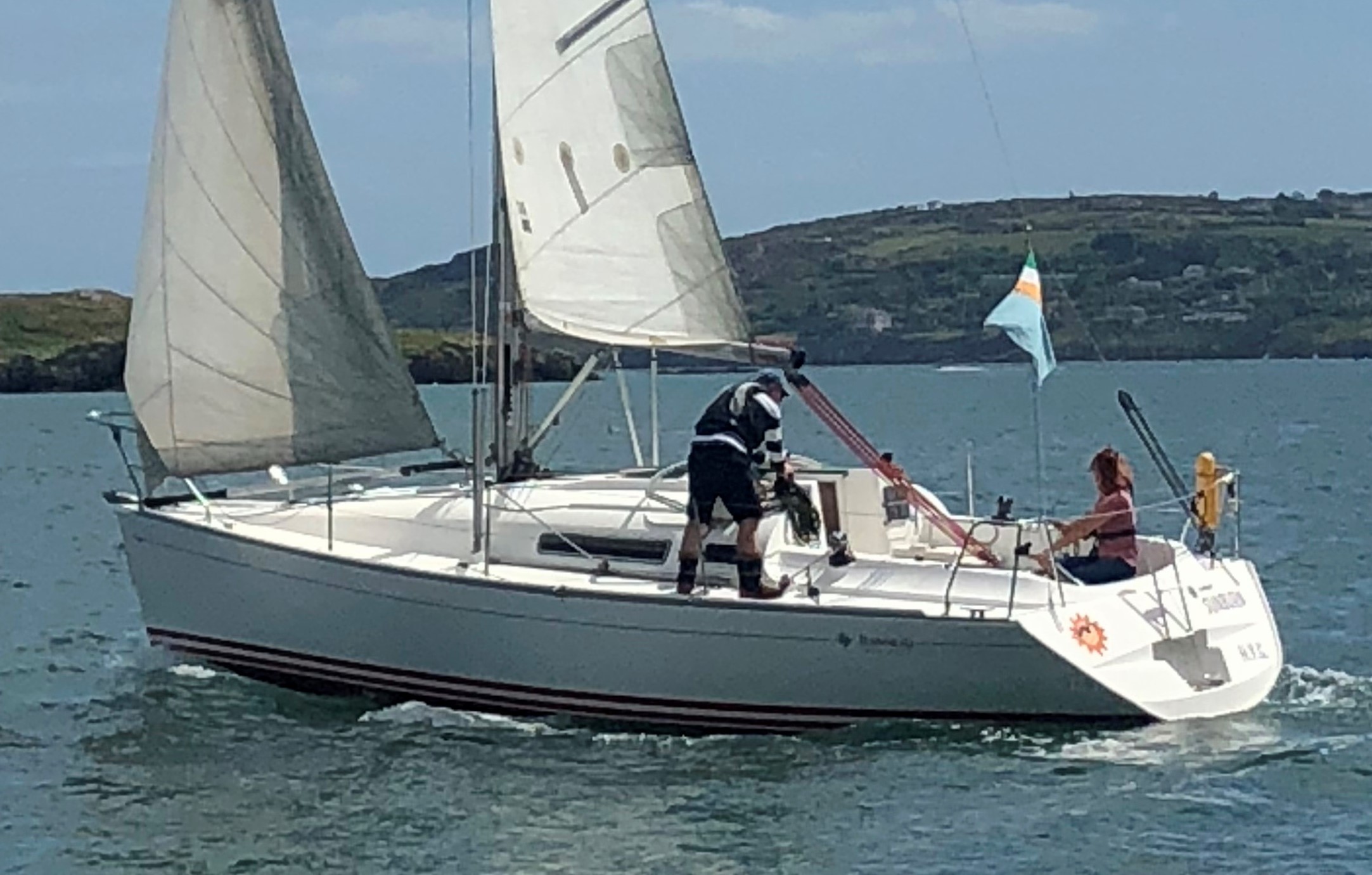 HYC Commodore Ian Byrne – Ireland's "Sailor of the Month" for May 2020 – leads the post-lockdown move back to sailing on his two-crew-compliant Sunfast 32 Sunburn on May 24th, with Leah O'Donoghue socially-distanced on the helm, and everyone within five kilometres of home
The May "Sailor of the Month" award went to then-Commodore Ian Byrne for the help he brought to sailors all over Ireland in clarifying the regulations in the easing of restrictions as the first Pandemic Lockdown began to be eased, while the January and August Junior Awards went to Optimist sailors Rocco Wright and Johnny Flynn for national and international success.
The details are outlined as follows on the current Afloat.ie pages:
JANUARY 2020: ROCCO WRIGHT OF HOWTH (Junior Award)
Rocco Wright (13) of Howth became Sailor of the Month (Junior) for January after twice taking silver in major Optimist regattas in both the southern and northern hemispheres. Early in the month in Sail Melbourne 2020 in Australia in a total fleet of 255 boats, he was overnight leader going into the final day. But a series of sometimes flukey winds produced its most fickle day of all to conclude with, the positions were inverted, and he did well to hold on to second overall.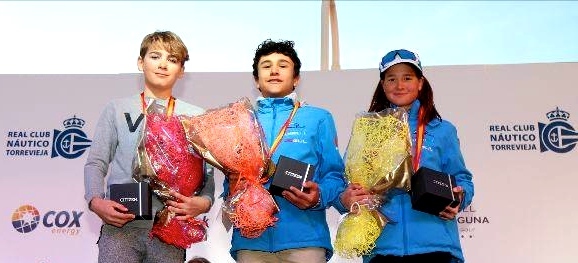 HYC's Rocco Wright (left) Silver Medallist in the 401-boat Optimist Euromarina Trophy Regatta in Alicante at the end of January with Gold winner Alessandro Cortese (centre) and Bronze Medallist Lisa Vucceti
In Alicante in Spain at the end of the month, conditions were breezy and almost wintry for the Euromarina Trophy and an astonishing total fleet of 401 boats. Here again he was overnight leader going into the final day's three races. With a ninth and a first in the two initial contests, things were looking good, but this time gear failure resulted in a DNC in the last race, and he'd to concede the overall lead to Italy's Alessandro Cortese while staying ahead of another Italian helm, Lisa Vucceti, who was also top girl
MAY 2020: IAN BYRNE OF HOWTH
With the complex COVID-19 regulations seeing their post-First Wave easing in May, many sailors with boats to fit out and get into commission had difficulty in assessing just what they were permitted to do or not do. But Ian Byrne, Commodore of Howth Yacht Club, made it his business to analyse in detail the national and local regulations and limitations. And then, as various stages were passed, he led his members afloat for a first sail, fully compliant with social-distancing, on Sunday May 24th. This resulted in a gradual resumption of day sailing, with family and household crews becoming accustomed to the "new normal".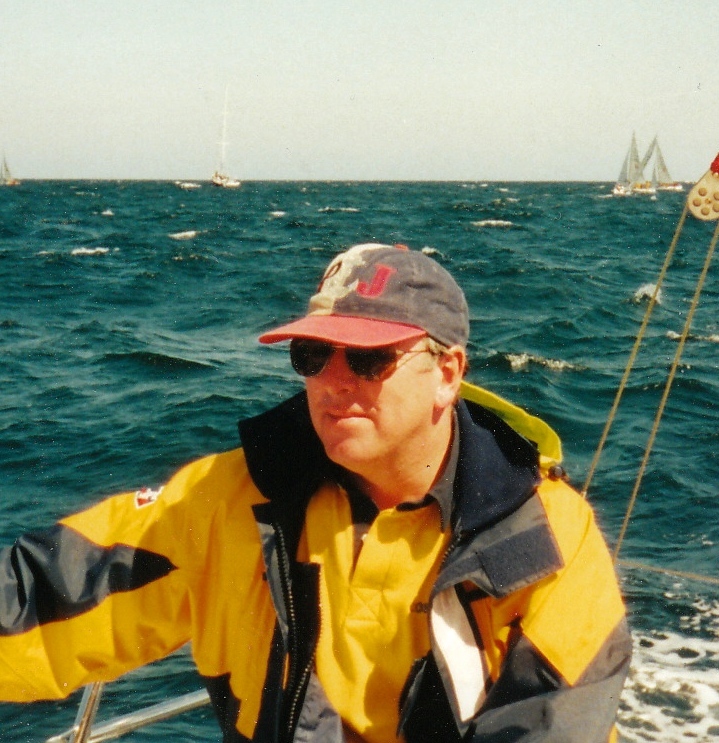 With an excess of information available as the first lockdown eased, HYC Commodore Ian Byrne made it his business to clarify the situation as to how much sailing was permissible, and in what form
AUGUST 2020: JOHNNY FLYNN OF HOWTH (JUNIOR)
One of the few national championships which was staged in 2020 was the AIB Optimist Irish Nationals with a 73-boat fleet at the Royal Cork YC in Crosshaven in mid-August. In sometimes flukey conditions, it went right to the wire with young Johnny Flynn of Howth taking the title by one point in the last race from Ben O'Shaughnessy of the host club, and Howth club-mate Rocco Wright in third.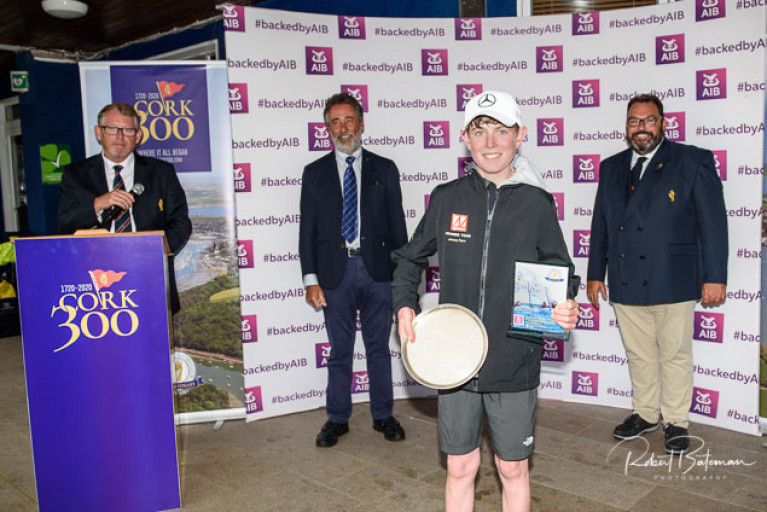 Into the limelight – young Johnny Flynn of Howth takes the Irish Optimist Nationals in August by one point at Crosshaven, with RCYC Admiral Colin Morehead on right in a socially-distanced ceremony Photo: Robert Bateman
The full details of all contenders in the 2020 Sailor of the Year awards are here.
Voting is available through Afloat.ie at the link above.
Registered in the Republic of Ireland. Registered No. 81187