Paddy Judge Elected Commodore of Howth Yacht Club
02 January 2021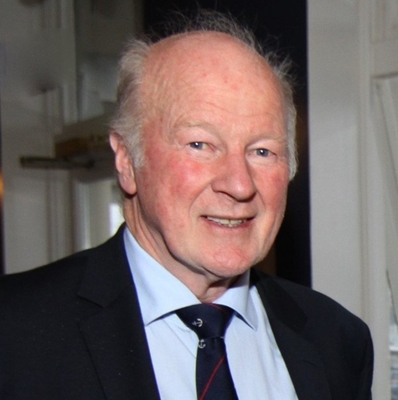 (Article from Afloat.ie) Paddy Judge, a long-serving committee member and flag officer with Howth Yacht Club, succeeded Ian Byrne as Commodore as the members were asserting the club spirit with an impressive entry in the competition for the best Christmas Festive Lights display, which has been much in evidence both on boats in the marina, and ashore.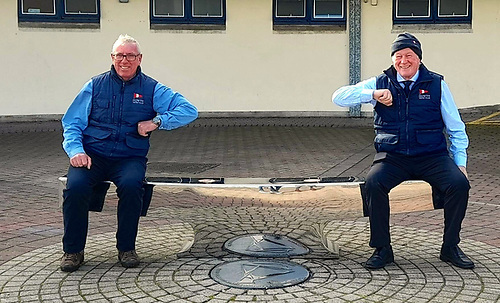 Outgoing HYC Commodore Ian Byrne (left) and his successor Paddy Judge demonstrating the Two Metre Rule on HYC's popular 'cleat seat'
The new Commodore, a former Aer Lingus captain originally from Mayo who also served as an inspector for the National Air Accidents Investigation Unit, has long been noted as a willing volunteer in many areas of club life. For a significant period recently when HYC was re-structuring its entire administrative system, he was the Club Manager on a pro bono basis.
A willing helper in providing support for race organisation afloat and ashore, his own main interest in sailing is in cruising, undertaken with the Dubois-designed Liberator 35 Si Gaoith which he completed himself from a bare hull to professional standards in an impressive one-man project.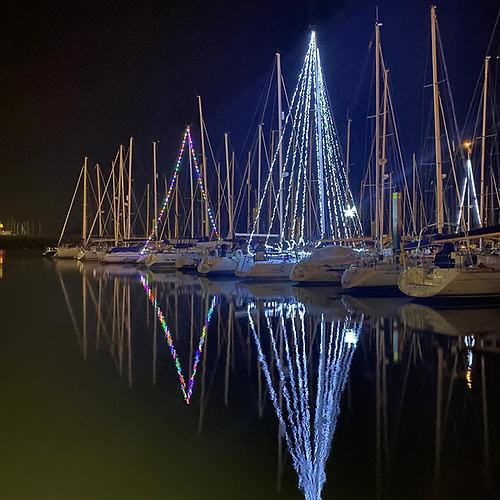 Howth Marina in a festive mood
Thus he brings a special range of skills and administrative experience to Ireland's numerically-largest sailing club. But although at Christmas in sending greetings to members he was able to confirm that the Club was in good shape thanks to the thorough utilisation of all governmental and local authority pandemic support schemes, he also expressed the expectation that training-based sailing could continue with a special socially-distanced event scheduled for New Year.
LOCKDOWN AND ITS EFFECTS ON HOWTH YACHT CLUB
However, this morning (December 31st) he has issued a new and clearly serious bulletin on the return of total Lockdown and its effects on HYC:
Access to the Club premises is only allowed between 09.00 and 17.00 hrs. Outside these times the Club premises, hardstand and marina, are closed.
Boat owners or their designated representative are permitted to access their boat, whether ashore or on the marina, during the above times. An owner wishing to have a representative look after their boat must advise the Marina Office who will be visiting prior to them accessing the Club. Other visitors to the premises are not permitted.
Access to the Clubhouse is closed until further notice. Take away refreshments will be available between 12.00 and 16.00 hrs.
All sailing and training events are cancelled.
Whilst single household and single-handed sailing are permitted by the new Government restrictions, members are asked to stay ashore until January 11th to minimise the risks to others ? an emergency whilst afloat will endanger those called upon to provide assistance.
Non-essential marina services are suspended.
Members must wear masks everywhere on the Club premises, including on the marina.
One staff member will be rostered daily for the Marina Office from 1st January. Routine checks of the marina and boats will be conducted. Owners who live beyond 5 km from the Club can request the Marina Office personnel to check their boats ? contact them either by phone at 01-8392777 or email at marina@hyc.ie
The Administration Office from 4th January will have minimum staff and staff members who can work remotely will do so. Contact the Office either by phone at 01-8322141 or email at office@hyc.ie
So for now, HYC activity is largely in limbo. But meanwhile, Commodore Judge salutes the 18 boats which entered the Festive Season Decorative Lights contest, and acclaims the outright winner, Simon Knowles' J/109 Indian, which was given the full decorative treatment by Rima Macken.
But the effort put in by the other 17 was so impressive that it was decided to draw four runner-up prizes, and they went to Diabolo (Eddie Stowe & Michael Heather), Sunburn (Ian Byrne), Valella 2 (John Boardman) and Equinox (Ross McDonald).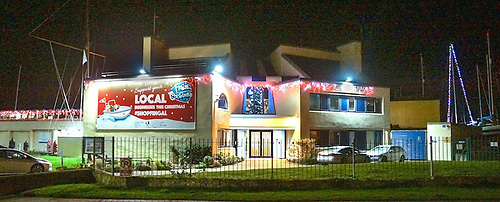 Howth Yacht Club faces the unique uncertainties of 2021 with a bright spirit
Article courtesy of WM Nixon, Afloat Magazine and published with his kind permission.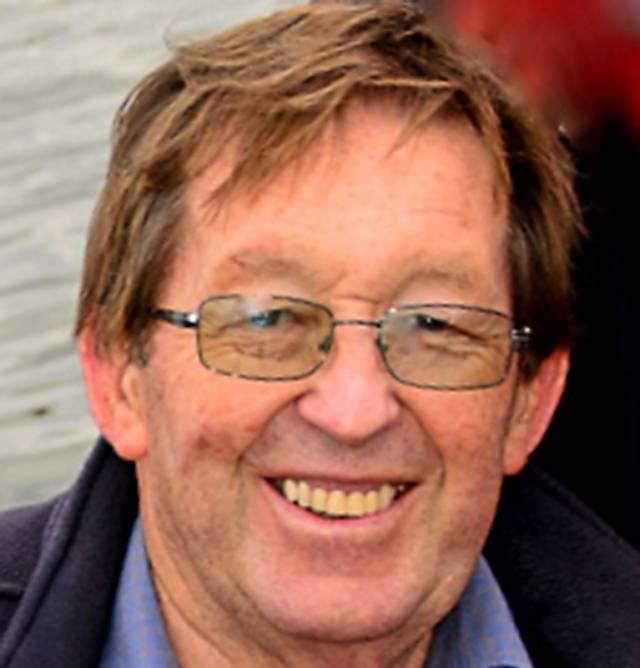 William M Nixon, a member of Howth Yacht Club, has been writing about sailing in Ireland for many years in print and online, and his work has appeared internationally in magazines and books. His own experience ranges from club sailing to international offshore events, and he has cruised extensively under sail, often in his own boats which have ranged in size from an 11ft dinghy to a 35ft cruiser-racer. He has also been involved in the administration of several sailing organisations.
Registered in the Republic of Ireland. Registered No. 81187