New Commodore Zooms into Action at 2020 AGM
17 December 2020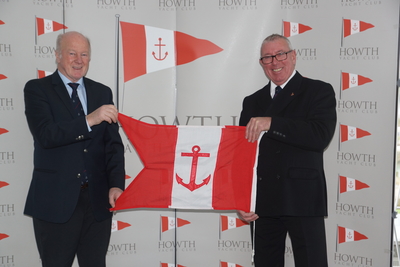 The first HYC Zoom AGM may have encountered a few technical hitches however the changes to the proposed changes to the constitution and the incoming flag officers and committee members received no opposition and were voted in by the members in attendance. No stranger to being at the helm, Paddy Judge is a former Captain in Aer Lingus and President of the Irish Airline Pilots Association as well as (in his later years) an Air Accident Investigator with the Department of Transport prior to retiring in 2014. A jack of all trades, Paddy has raced Lasers, is a Senior Powerboat instructor, previously held responsibility for HYC RIBs and took over as voluntary General Manager in 2017 from Peter McKenna. His contribution on all these fronts to date is already heroic and last night he expressed his humility at 'the great honour you have granted in electing me as Commodore in our 125th year, of Howth Yacht Club - the largest and best yacht club in Ireland'. He also stated he is 'thankful for the trust that you have placed in our new General Committee'. Our new General Committee has plenty of heavyweights and experienced contributors consisting of Vice Commodore Neil Murphy, Rear Commodores Kevin Monks and Larry Quinn with the remaining 10 General Committee members being John Flynn, Darren Wright, Robert Dix, Michael Torpey, Bernie Condy, Caroline Gore Grimes, Gary Cullen, Aoife Hopkins, Willie Kearney, Tom McMahon, Sarah Robertson and ex-Officio Ian Byrne. Paddy thanked Ian for his leadership and commitment to Howth YC over the last 2 years as Commodore and, prior to that, for his 3 years looking after the marina and harbour portfolio.
He informed the AGM that, in line with Ian's strategy, it was his intention to continue follow the path which Joe McPeake started and to continue to focus on the same objectives: Serving value to our members, managing our Club professionally and transparently and to continue to contribute and engage with the community. Having achieved good financial results and increased member numbers this year, the focus will be on retention of members through new sailing initiatives and a welcoming club environment.
He welcomed the new Club Manager Aideen Doran who he knows will be well supported by the great volunteers, without whom the Club could not function.
He thanked all the General Committee members of 2020 for their help and support and particularly Kevin Monks for his hard work in ensuring that our Club is a safe place to be during the challenges Covid presented. He expressed his confidence in HYC as a club with its great facilities, staff and members.
Closing off with Christmas Greetings to the members, there was a feeling of positivity and optimism with hope for a better 2021 for members and sailing in general. - onward and upward.
Full biographies of new committee here
Registered in the Republic of Ireland. Registered No. 81187