Sizzling Start to HYC End of Summer Series
13 September 2020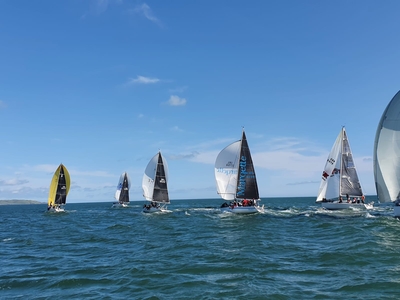 The HYC End of Summer Series saw the first of its planned six weekends of racing on Saturday and Sunday, (Sept 12 and 13th). After a racing season that only started in July and was then bedevilled by evenings with too much or too little wind to sail, the first weekend had all the appearances of a peace offering from the weather gods. South westerly breezes ranging from 12 to 15 knots, flat water and temperatures over 20 C on both days saw close competition amongst the 79 entries, spread over 9 Classes.
The Classes were divided into a Saturday and a Sunday fleet to reduce the number of people present in the Club on each day and the wind conditions on both days were almost identical. Starting from the Club's traditional start line on the East Pier, the fleets started in the Sound going east before turning north up the back of Ireland's Eye and racing around the Club's permanent marks to the north of the island before heading back south against the strengthening flood tide and tackling the challenges of beating back up the Sound to the finish.
With the local vagaries of the tide and the wind being deflected by the high ground of Howth Head and Ireland's Eye, tales of hard luck and tactical genius abounded. Regardless of the result achieved, there was unanimity that the sailing was Carlsberg quality and made up to a small degree for the plethora of cancelled Open events during 2020.
The next three weekends are planned to be Committee Vessel starts with two races per day for each Class before the fleets return to racing from the Pier for the final two weekends. With a discard allowed for every four races sailed, there is still a prospect of success for any HYC boats yet to enter, as well as an opportunity get afloat and enjoy the remaining eight races.
Results for the racing can be downloaded from HYC Results. Thank you also to our photographers on the day Judith Malcolm, Steffi Ennis and Neil Murphy - Gallery Here.
Registered in the Republic of Ireland. Registered No. 81187