HYC Extends Club Racing Series through to October 18th
25 August 2020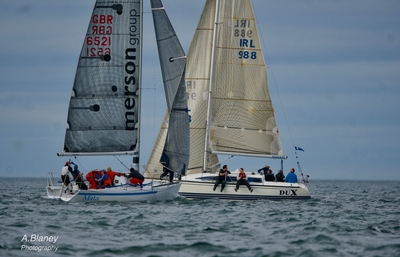 The ongoing constraints resulting from the COVID-19 pandemic have led Howth Yacht Club to consider how best to continue providing competitive keelboat sailing up to the end of the Summer season while minimising the infection risks to competitors. The Howth Autumn League, with its mix of top class racing and first class après-sailing, has been the leading event on the East Coast for many years but the required COVID mitigation measures make it impossible to host it in 2020. Howth Yacht Club therefore regrets to announce that the 2020 Autumn League is cancelled.
The Club will instead run a late season club racing series for its members only. The same range of Classes normally provided with racing in the Autumn League over two courses on the same day will be split to control the numbers attending the Club. The traditional 'inshore' fleet (Howth 17s, Puppeteers, Squibs and Class 3 along with the J80 class) will race on Saturday afternoon while the Cruiser Classes 1, 2 and White Sails will race on Sundays at lunchtime.
The annual Lambay Races, which were unfortunately cancelled a fortnight ago, will be facilitated as part of the current summer series. HYC Classes can now opt to run one of their scheduled races as a race around Lambay.
The Howth 17 fleet have decided to take on the challenge on September 5th, which is the last Saturday of the Club's much reduced 2020 summer series. The Cruiser Classes will have one last chance for a 2020 race around the beautiful island in the last race of the Fingal Challenge series. The Fingal Challenge Series, sponsored by Chambers Engineering, has provided fun racing throughout what has been one of the strangest summer sailing seasons for many years. The race to Lambay and back will be the Fingal Series last race and should be both a great day in its own right and also maintain continuity with the less dramatic seasons of the past.
Photo Credit: Annroi Blayney
Registered in the Republic of Ireland. Registered No. 81187