Fingal Series Sneaks in an Extra Race
28 July 2020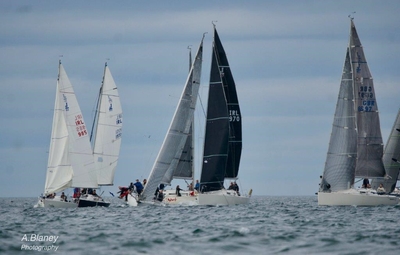 The Fingal Cruiser Challenge added in an extra race last Saturday the 25th July. Aptly named "Discovering the Race Course", the OD, Fergal Noonan of Impetuous set a fun race starting eastwards off the pier leaving Ireland's Eye to port and beating towards West. After that the fleet of just 9 on this occasion, down from the regular 16 that have been taking part, zigzagged around the Howth marks between Irelands Eye and Lambay.
Those flying spinnakers had plenty of practice, Big Picture having one or two hairy moments when the gusts got a bit strong!. Both spinnakers and white sails enjoyed the winds which remained between 12 and 16 knots with flat seas. It was a fun morning with a great 2.5 hour race with all boats finishing within 10 minutes of each other.
The format of the series is proving a hit this season with informal starts off the pier everyone starting together and taking your own times at the finish. The 4th race of the series will be next Saturday the 1st August with an anticipated course taking in Rockabill. There will then be a two week break with the Malahide regatta being part of the series on the 22nd August.
Registered in the Republic of Ireland. Registered No. 81187