Wave Regatta team foresees a 'redesign of major sailing events'
15 July 2020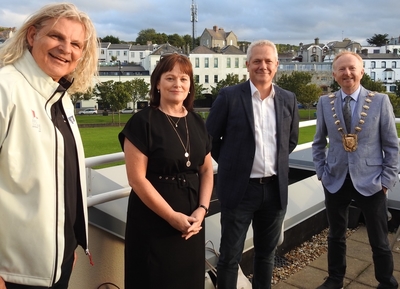 During months where many of us were learning how to cut our own hair, do our own nails and make our own coffee, the Wave Regatta team was meeting online to consider the ever-changing route ahead. Their initial and early decision to defer the event from what is hoped will be it's regular schedule, (that is every second year on the June bank holiday and carefully dove-tailing with Dun Laoghaire Regatta) was intended to see-off the Coronavirus and to find a suitable weekend in what would normally be a busy national sailing schedule.
Alas, the pandemic will still keep us guessing, but with the help from the versatile and agile team in Howth and with guidance from Irish Sailing, they are planning to deliver an excellent event on the weekend of the 11th of September. The redesigning of Wave Regatta for 2020 has centred around the provision of safety for competitors and as such has meant that there will be tight restrictions on visitors this year - with the result that after-sailing entertainment program will be significantly curtailed.
However, sailing affords lots of fresh air and the wide-open spaces from Fingal's unique coastline will give the team at Howth the opportunity to showcase the club's world-class racing resources with a team that is anxious to do what it does best. The decision to combine Wave Regatta with the Irish Cruiser Racing National Championships will demonstrate a natural synergy and presents the regatta as Ireland's focal sailing event of 2020.
Amongst the invited guests at a reception to confirm the event in Howth on Wednesday evening, were sponsors including Fingal County Council, Wright Hospitality Group, Euro Car Parks, Cassidy Travel, WD40 and EasyTrip.ie. Make no mistake, the sponsors' commitment to Wave Regatta during very uncertain times was crucial to the organising committee's ability to be agile with planning and affording them the confidence to reconstruct such a major sailing event.
Sailing is a sport which is not without risk, a fact incorporated in the fundamental rules of the sport, risk management is also vital for onshore planning and Wave Committee Chairman Brian Turvey thanked HYC for their detailed diligence in this area and helping to promise a safe regatta for all, including visitors to the club during the event. They are preparing to deal with competitor and visitor registration in respect of contact tracing obligations as well as aligning with governmental and Irish Sailing guidelines and precautions. The Event Chairman added 'Competitors and visitors to the event will very quickly realise a very different experience than they are used to, but one that they will feel reassured and in an environment where their safe enjoyment will be paramount.' In addition to the provision of specially designed sport facial masks for all competitors, and in conjunction with the significant expertise of Wright Hospitality Group, the organising team and the club will provide a unique and innovative hospitality offering, utilising the huge open space that the club forecourt provides as well as encouraging teams to utilise their boats on the marina and encouraging teams to remain in their own groups after racing.
Daily online registration for teams and visitors to the club has already commenced and will be de rigeur by September, as will the extensive hand-washing and social distancing protocols. Other COVID-led innovations include a new style of prizegiving which will be introduced, avoiding the old way of large gathered groups and extended ceremonies - 'about time' many will assert, and perhaps they can now set a trend in the sport.
Newly appointed Mayor of Fingal David Healy acknowledged the work that the Wave Regatta team have been doing and was delighted that the regatta was being carefully planned during such a difficult year. It is understood that this will be one of very few major sailing regattas to be held in the World during 2020.
(Top photo: Michael Wright, Fingal CEO AnnMarie Farrelly, ICRA Commodore Richard Colwell and Fingal Mayor David Healy)
Registered in the Republic of Ireland. Registered No. 81187