Wave Regatta rolls forward on the turning tide
29 June 2020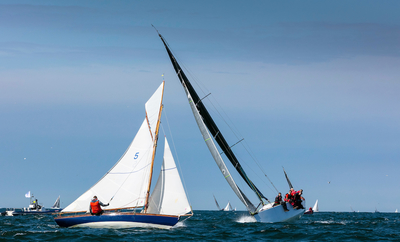 The good news that Irish Sailing announced last week will undoubtedly have boosted the event that Howth's Wave Regatta team continue working towards and what is now likely to be the pinnacle sailing regatta of this very short sailing season.
In addition to their plans to make Wave 2020 the safest and most attractive regatta of the year, the team has advised of some further improvements to their original hugely successful regatta in 2018.
The format for this year's event has been further modified to provide an additional 'round-the-cans' race on the Saturday morning before Howth Yacht Club's famous Lambay Race. Similarly scoring has been modified, whereby the Lambay Race will score single points for those competing in the ICRA National Championships and will be discardable - whilst it will be non-discardable and carries a 1.5 weighting for boats competing for Wave Regatta prizes.
Early entry discount concludes this coming Friday (July 3rd) and it is expected that this week will draw many more entries, all availing of the reduced early-rate.
As plans evolve for the 'shoreside' set-up, the latest news is that a more complete hospitality offering will be in place, albeit carefully managed in respect of pandemic precautions. A huge outdoor lounge is to be built on Howth Yacht Club's large forecourt, with extensive menus and top-class food available morning until night-time.
Wave Regatta chairman Brian Turvey enthusiastically welcomed Irish Sailing's news last week, which effectively allows a return to full sailing activities from this Monday, explaining 'This confirms that our decision to postpone Wave Regatta until September 11th was both timely and correct. The fact that sailors can now return to racing with full crews means that they will enjoy 10-weeks of racing before the event and should have time to get boats and crew prepared. We are also delighted with the organisation team's experience and work in respect of preparation for a 'safe regatta' and in line with sport and hospitality guidelines.'
Online entry and Notice of Race can be accessed at
waveregatta.com
and a discount is still available until next Friday.
Registered in the Republic of Ireland. Registered No. 81187