Cruising Group sail to Lambay
27 June 2020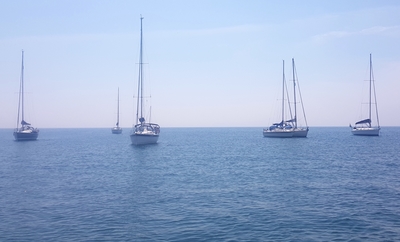 Well what a great turn out the Cruising Group had today thursday 25th June.We had 18 boats in total turn out for our first outing. Led by 'armada chief Gerry O'Neill, we set off at 10.30 am and with a light north easterly wind. We sailed along the northern coastline.
The Cruising Group yachts and motoryachts of all description anchored in the beautiful Carnoon Bay on the south east side of Lambay Island. Many members had their first 2020 swim or paddled around in their dinghy. The swimmers were accompanied by a young wayward black seal in the bay. A few yachts rafted up together and adhered to the recommended 2 metre covid separation distances. Following a leisurely lunch, the members lay in the glorious sunshine.
A special thanks to all the participating members today for making this a special event, on what was a weekday. A video of the 18 boats anchored in the Bay is below
and a full gallery here.
Willie Kearney Cruising Group Captain
Registered in the Republic of Ireland. Registered No. 81187