Wave Regatta reschedules for September
15 March 2020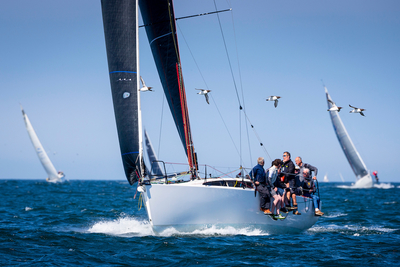 Following their reflection at a meeting last week over the bizarre and unprecedented circumstances that the world will be enduring for the foreseeable future, the Wave Regatta organising team made the decision to change the date of the event from this June Bank Holiday to September later this year.
In a move to ensure favourable dates and amidst what will be a very busy period for Irish sports, Race Director Dave Cullen explained: 'This was an obvious and important decision that needed to be made at the earliest possible stage. We want to minimise disruption for everyone that will be involved in the event and we identified an ideal period in the racing calendar and at a good time of the year for a major regatta.' The new dates will be Friday 11th through to Sunday 13th September and will include the Lambay Races on the Saturday. The Notice of Race now includes the new dates and the remaining plans and schedule are exactly as previously outlined, albeit 3 months later than initially scheduled.
'We needed to be able to give ample time to everyone involved in the very big event that Wave Regatta has become,' said event chairman Brian Turvey, adding: 'the planning for Wave requires that every component is aligned and the logistics of co-ordinating the build-up and delivery of the event, including the important scheduling for boats and teams to get to Howth, means that it's vital that we can commit to suitable date as early as possible. The Wave team were unanimous in their decision to act swiftly and we believe that the new dates are ideal'.
It's possible that Wave Regatta will emerge as an attractive curtain-raiser to a sailing season that will struggle to take hold early this summer and as a very new world horizon comes into view. In addition to providing the highest quality keelboat racing over the 3 days, the promise of a full weekend of top-class entertainment is principal to this regatta's theme and it will probably a good time for everyone to let their hair down!
See the Notice of Race and Online Entry here
Registered in the Republic of Ireland. Registered No. 81187