Shared spoils for Lasers in Howth on Sunday
13 January 2020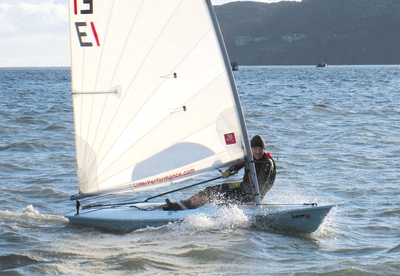 The Howth Laser sailors were greeted with glorious sunshine and a gusty breeze out of the West for the second weekend of the Frostbite Spring series. The various forecasts had predicted some strong gusts in the late 20 knot range, but these had blown through before racing got under way and the fleet were treated to some champagne sailing conditions.
Race 1 got under way and right on time at 10.45. The time of the high tide at 12.20 made for an interesting decision for the fleet to make in relation to tide as the ebb would begin to settle in throughout the first race. Conor Murphy was sailing extremely and well figured out the best strategy, taking shifts and nailing the lay line, which was easily overlaid with a port tack lift on the approach to the top mark. Conor was chased around the rest of the course by both Darragh Kelleher and Ronan Wallace, with Ronan getting by on the final downwind to take the win from Conor, 2nd and Darragh 3rd.
In race 2 there were a number of boats who hit the pin end having misjudged the tide on the start. (See below video.) Conor Murphy made no such mistake and took the win having got inside Darragh Kelleher at the first leeward mark and controlled the race perfectly from that point. Ronan Wallace completed the podium in third.
The Radials saw Peter Hasset take the first race followed by Peter Kilmartin and Hugo Micka in third. The two Peters reversed the finishing order in Race 2 with Kilmartin taking the gun followed by Micka once again in third.
The 4.7 saw a dominant display from Sophie Kilmartin taking the gun in both races.
Registered in the Republic of Ireland. Registered No. 81187