Pirates aren't the only things that can work on one leg
02 January 2020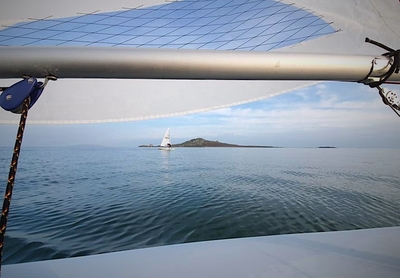 New Year's Day 2020 and 14 of the country's most dedicated Laser sailors assembled at Howth YC for the annual NYD Frostbite race. Conversation started with some bragging about who had gone to bed earliest the night before but quickly switched to the breeze (or lack thereof).
The Class Captain – benefitting from his claimed 22:00 bedtime on New Year's Eve – was first to launch and, assisted by a flood tide, slowly made his way to the race area. He was trailed out by the rest of the fleet and some of them, judging by their arrival time in the race area, had not followed their Captain's example the night before. The AP flag went up at 11:55, giving the RO the requisite time to continue exercising the mark layers for the first time in 2020, using the excuse of the fickle wind conditions and the gradual 90 degree change in direction.
Racing eventually got underway in what appeared to be, but sadly was not, a relatively stable breeze that started to fade away just after the start. With the tide by now mostly slack, the fleet split 50/50 with some optimistic (but ultimately misguided) helms feeling there was more breeze on the right, although those who went hard left were equally unsuccessful.
With all sailors now ghosting along in next to no wind and one already having decided that lunch ashore was more important, the eagle-eyed ROs quickly spotted what was about to unfold and repositioned the Committee Vessel to shorten the course, meaning that it was now a very slow drag race to finish at the first mark.
In the full rigs, Darach Dinneen fulfilled a lifelong ambition to conquer this race, with Paul McMahon in second (apparently losing a bet as a result) and David Carter in third. Darach also found the time for a spot of photography - see top photo!
In the Radials, the drifting match was won by Peter Kilmartin with Peter Hassett and Lucy Butcher in second and third respectively.
'Drift master' in the 4.7s was Scott McNally with Abby Kinsella second and Sophie Kilmartin third.
It was a crystal clear, bright and sunny morning but the light conditions left all sailors looking forward to the windier conditions forecast for Sunday next, start of the Spring Frostbite series.
Online entries can be made here
Registered in the Republic of Ireland. Registered No. 81187