J/24 Europeans to return to Howth in 2021
01 January 2020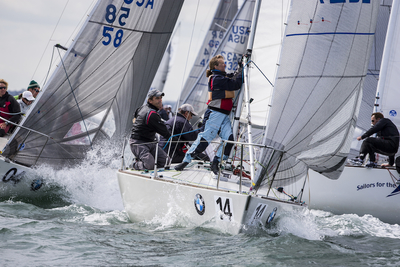 This Irish J/24 Class is alight with the announcement that Howth Yacht Club has been selected to host the J/24 European Championships in 2021.Ireland's proposal was made at the 2019 World Council Meeting in Miami on 28 October 2019 and voted on by the European NJCA's with the announcement made this week.
The Irish J/24 Fleet and Howth Yacht Club will re-kindle a previous successful partnership which saw the North Dublin club host both the J/24 Europeans in 2011 and J24 World Championships in 2013. On news of the announcement Mark Usher, Irish J24 Class President shared his delight and expressed his gratitude to the architects of the bid."The Irish J24 fleet is once again indebted to Howth Yacht Club, we are fortunate to have a club with their experience, expertise, facilities and infrastructure as our host club. I would like to recognise those who led the bid, Commodore Ian Byrne, Vice-Commodore Paddy Judge and Neil Murphy who were assisted by Flor O'Driscoll. We look forward to working with Howth Yacht Club to organise and deliver a top-class event both on and off the water."
HYC Commodore Ian Byrne welcomed the news and said "Howth Yacht Club is delighted that our proposal to host the 2021 J/24 European Championships has been successful. Our continued support of the Irish J/24 Class and our team's previous success running national and international championships was instrumental in bringing this major European regatta to Fingal County. We will now set to work to provide world class racing in our stunning setting and make the event memorable with our Howth hospitality ashore."
The Irish J24 Fleet is undergoing a period of significant growth demonstrated by 32 boats entering the recent Irish National Championships at Lough Erne Yacht Club. The growth has been accelerated by commitment to an Under 25 development programme which has been supported by Irish Sailing, Irish Cruiser Racing Association (ICRA) and West of Ireland Offshore Racing Association (WIORA) who have both provided grants to clubs for development of Under 25 teams. In previous years, the hosting of international events has acted as catalyst for new entries to the Irish fleet seeking to challenge themselves against top class international competition.
Registered in the Republic of Ireland. Registered No. 81187