Whiskey and Slane Castle for ROMEOs
17 December 2019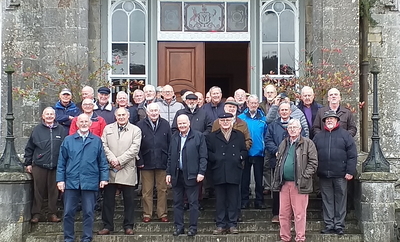 The Howth ROMEOs led by Chief ROMEO Gerry O'Neill, having concluded last winter's series of outing with a visit to the AVIVA Stadium began the current winter series on Thursday 21st November when they visited Slane Castle and Whiskey Distillery.
The thirty-four ROMEOs shared cars arriving at the Slane Distillery for the first part of the day's adventure. In three groups the very knowledgeable guides gave us a great tour of the two year old distillery. Work on restoring the old buildings to the distillery began in 2015 and was completed in 2017; the four attached pictures show the buildings prior to the work beginning. While they are marketing a current whiskey as Slane Whiskey it is not actually produced there as the rule says that your liquids must be fermenting for three years and a day before it can be classified as "your" whiskey and so roll on next year.
A story as unique as our smooth and flavourful, triple casked whiskey, Slane Distillery celebrates the return of exceptional Irish whiskey to Ireland's Boyne Valley. Made by the barrel-raising art and whiskey-making expertise of the Brown Family and born on the historic lands of the Conyngham Family, our award-winning blend brings the legacies of two historic families together for generations to come.
The final adventure of the day was a tour of the adjacent Slane Castle and concluded with an excellent lunch in the Castle enjoyed by all. The Castle is one of the most exciting historic buildings in Ireland. The historic Battle of the Boyne was fought just downriver where the family fought on both sides.
Slane Castle hosts many high profile events, from its famous Summer Concerts with a capacity of 80,000 people, to intimate events inside the Castle as experienced by the ROMEOs. The Castle's experienced hospitality and events team will tailor your event to your individual needs in a unique environment.
The ROMEO's conclude 2019 with their Christmas lunch in the ASGARD Room in Howth Yacht Club on Friday 20th December.
Itinerary:
11.45 Muster in Howth Yacht Club
12.00 Powerpoint Presentation by our fellow ROMEO, Fionan de Barra, on the completion and launch of the newly built Dublin Bay 21 footer.
13.30 Lunch
As we are not limited by numbers for the lunch, ROMEO members are welcome to invite a male guest. The cost of lunch is € 30 and I shall be obliged if you will make arrangements to pay ME or Gerry Sargent before the 15th December
Contact me on 086 2757294 or Gerry Sargent on gerrysargent@eircom.net or 086 3990004 to make a booking.
Gerry O'Neill, Chief ROMEO
Registered in the Republic of Ireland. Registered No. 81187